Summertime is berry time. Time for picking, eating and sporting sweetly stained t-shirts showcasing the fruits of your labor (pun intended).
These fun, delicious (and nutritious!) breakfasts highlight everything we love about summertime and summer berries. And if the weekdays are still too hectic for anything besides a granola bar and an iced coffee on-the-go – we hear you – you can save these gems for Sunday 😉


Photo credit: Peter Krumhart and Dean Tanner
These incredible crepes literally taste like eating a cloud. Fluffy and warm and full of sweet berry filling. They are easy to make, pretty to look at and so yummy to eat. What more could you ask for?
Berry Stuffed French Toast with Vanilla Yogurt Sauce 

Photo credit: Peter Krumhart and Dean Tanner
Sweet, crunchy crust, with a warm berry-filled center – there's nothing more comforting than some good old French Toast. This recipe takes it one step further with a delicious yogurt sauce that's even better than syrup!
Ginger, Strawberry and Raspberry Smoothie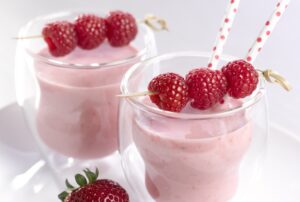 The sweetness of honey, spice of ginger and overall summer flavor of strawberries and raspberries blend together in this delicious "sippable" smoothie – perfect for a hot summer morning.
What are your favorite recipes to celebrate summer berries?