Mornings can be tricky when trying to get kids out the door on time. As parents, we desperately want to make sure our children are fed well, but it can be hard when the list of things that need to happen is long and the mornings are short. We need to pick our battles and morning battles are that much harder, especially when our coffee hasn't kicked in yet! As a result, it can be all too easy to favor convenience food or to skip breakfast altogether. Luckily I'm here to tell you that it doesn't have to be all or nothing. Convenience food doesn't have to mean junk food (and it doesn't have to break the bank, either)!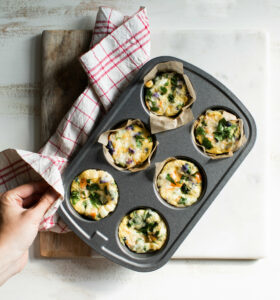 My favorite morning hack is to have breakfast made and ready to go, all before I wake up. As much as I'd love to offer my family a beautiful hot breakfast that we all sit down to enjoy together, it's just not the reality on the weekdays and that's okay! With a little bit of super easy meal prep, I have everything I need to get my daughter (and husband!) fed a nourishing breakfast without having to do more than open the fridge in the morning.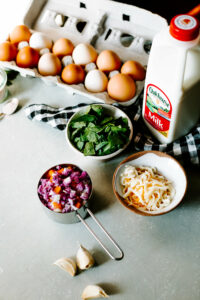 Oakhurst Whole Milk + Veggie Omelets to Go is the ultimate breakfast crowd-pleaser. Kids – from toddlers to teens – love them and you can rest assured knowing their mornings are off to a good start with plenty of protein and healthy fats to keep them happy, energized and ready to focus at school (source). This recipe hits what I like to call the trifecta of nutrition. There's fiber from the veggies, and plenty of protein and healthy fats from the mixture of eggs and Oakhurst Whole Milk (with calcium and vitamin D to boot!). We only drink and eat whole milk products in our house, and I feel very passionately about this. There's a general misconception about whole milk and fats in general, but the truth is healthy fats found in whole foods are what our brains need to function and thrive. That's right, healthy fats can improve health! Phew, what a relief because in my opinion, whole milk is just a bit yummier!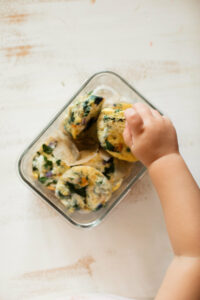 Time Saving Tip
This recipe is made to be as convenient as possible for you. You can make the omelets right inside a muffin tin, and then portion into plastic bags or containers so they are ready to grab-and-go when you are.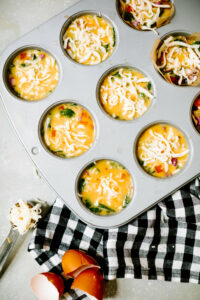 Use 1 cup of mixed veggies such as leftovers, whatever you have on hand, or your kids' favorites, and 1 cup of chopped leafy greens such as spinach or kale (or get adventurous with bok choy!). I'm a huge fan of using leftovers because it's less prep and a way to repurpose what may otherwise go to waste. In this recipe, I used raw purple cauliflower, yellow onion, bell pepper, spinach and parsley because these colorful veggies are staples in our home. Some other flavors that I'm getting excited about this fall are roasted sweet potatoes, garlic and goat cheese. You could even add prosciutto, bacon, turkey or ham for an extra flavor kick.
 Regardless of what you use, be sure to pre-portion the omelets in plastic bags in the fridge. This way you won't have to lift a finger in the morning.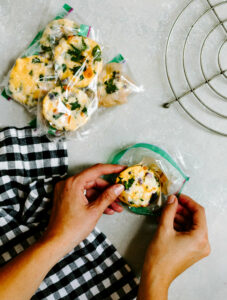 Oakhurst Whole Milk + Veggie Omelets to Go
Author: Jennifer Bravo, CHC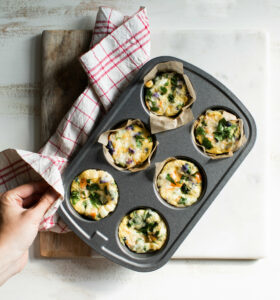 Prep Time: 7 minutes
Cooking Time: 20 minutes
Yield: 12 omelets
You'll need: muffin tins and paper liners or parchment paper
Ingredients:
12 large eggs
¼ cup Oakhurst Whole Milk
½ tsp. salt
1 cup chopped veggies, such as onion, cauliflower/broccoli, and bell pepper
1 cup chopped leafy greens, such as spinach
3/4 cup shredded cheese, such as cheddar, monterey jack, or mozzarella
Optional: parsley, cilantro, or chives to garnish
Procedure:
Preheat oven to 325 degrees, line 12 muffin tins with paper and set aside.
In a large bowl, whisk together eggs, Oakhurst Whole Milk, and salt.
Stir in chopped veggies and chopped leafy greens.
Using a 1/3 cup measuring cup, scoop omelet mixture into lined muffin cups. Top each individual omelet with about 1 tablespoon, or a good pinch, shredded cheese.
Bake roughly 20 minutes or until the eggs are fully cooked, turning the muffin tin around half way through cooking.
Immediately garnish with optional fresh herbs and let cool completely before storing away in the fridge.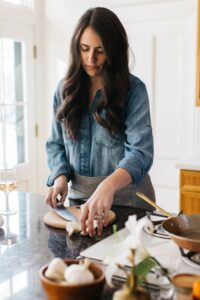 Jennifer Bravo is a mom, certified health coach, recipe developer and photographer located in Portland, Maine. Jennifer received her culinary training at the Natural Gourmet Institute for Health and Culinary Arts in New York City where she learned a unique, health-centric approach to cooking. Jennifer empowers her audience to prepare nutritious meals at home by sharing delicious, easy-to-make recipes. She believes that food is most nourishing when enjoyed with friends and family over a bottle (or two) of wine. When Jennifer isn't in her kitchen making messes and snapping photos, she can be found exploring the beautiful coast of Maine with her husband Ethan, daughter Lila, and velcro-dog Bence.
Website: http://www.bravojenny.com
Instagram: http://www.instagram.com/jennifahbravo