Well, it's officially Spring, but for most of us here in New England it sure doesn't feel like it. That's not going to stop us from acting like it, through. Fifty degrees in Maine is considered shorts weather – and we think it's salad and ice cream weather, too!
So if you're ready to ring in Spring, try one of these four warm-weather recipes to get you in the spirit.
Lemon Berry Crepes with Maple Syrup (https://www.oakhurstdairy.com/recipe/lemonberry-crepes-with-maple-syrup/)
Springy and bright, these lemon-berry crepes are everything we love about spring. Light, airy and topped with delicious fresh berries. If you can't get fresh berries quite yet, frozen berries pack the same nutritional punch (and they're cheaper, to boot!). Make sure to use real New England maple syrup for the full effect.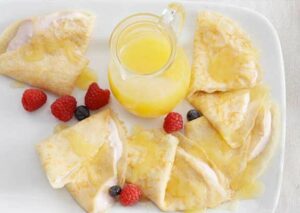 BLT Salad with Sour Cream Avocado Cilantro Dressing (https://www.oakhurstdairy.com/recipe/blt-salad/)
Nothing says summer like salad! This green leafy twist on a traditional BLT is hearty and flavorful. Make the dressing yourself, or top with your favorite store-bought variety.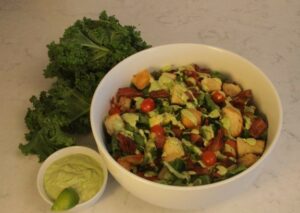 Creamy Vanilla Berry Popsicles (https://www.oakhurstdairy.com/recipe/creamy-vanilla-berry-popsicles-recipe/)
These popsicles are yummy enough for dessert, and healthy enough for an afterschool snack. Made with nonfat yogurt, Oakhurst milk and a pinch of sugar they pair perfectly with fresh or frozen berries.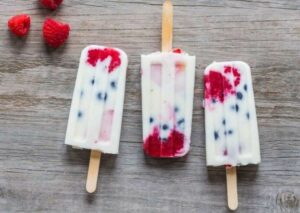 Homemade Chocolate Covered Pretzel and Caramel Ice Cream (https://www.oakhurstdairy.com/recipe/homemade-chocolate-covered-pretzel-caramel-ice-cream/)
Still buried in snow? No worries – we believe in ice cream all year round. This homemade version is SO good as is – the perfect blend of sweet and salty. Or, choose your own mix-ins to find your perfect blend.