Whether you're a busy mom, a worker bee, or an early riser, you probably rely on your daily caffeine fix. We realize for many of you, that involves a drive-thru or maybe even microwaving yesterday's cup of coffee that you never had the chance to drink. BUT — for those days when you really need an extra kick and you have the luxury of an extra 10 minutes (!!) be sure to try one of these 3 "next level" coffee drinks that will really hit the spot.
A combination of cream, sugar, Oakhurst Chocolate Milk and good old iced coffee, this decadent treat is sure to make your morning. Not to mention, it calls for chilled or "room temperature" coffee- something we know all moms have in abundance. No time to enjoy it? Just pop it in the fridge and enjoy whenever you get some downtime.
This recipe may take longer (see: aforementioned 10 minutes) and requires pulling together a few more ingredients; but boy is it worth it! Plus, once you make the syrup you can store it and use it as needed for the next couple of weeks. If you're addicted to iced coffee, this is your new staple.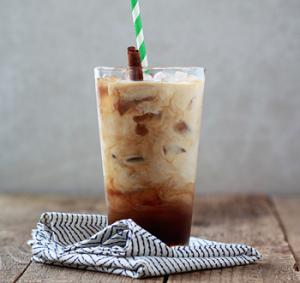 Last, but most definitely not least, is this Mexican Spice Mocha, which is really a cross between coffee and hot chocolate with a dash of cinnamon and chili powder. The perfect kick to get you ready to face the day. Delicioso!