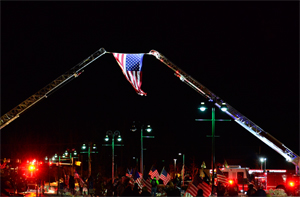 The Wreaths Across America journey is a powerful tribute to America's fallen heroes. Anyone who has witnessed it first-hand would echo that sentiment. That is why Joe Masse, a 38-year Oakhurst truck driver, wanted to share this experience with his family. Last year was Joe's first year driving the Wreaths Across America truck for Oakhurst and when he was asked to do it again this year, he couldn't have been more enthusiastic.
"I have attached myself to this cause," Masse said. "I plan to drive the truck every year until it's physically impossible for me to do so. And when I can't drive the truck anymore, I'll volunteer my time each November to make wreaths in Harrington."
The very first ceremony of the trip began early on Saturday morning with a sunrise service at Quoddy Head State Park where the U.S. Atlantic coast meets the Canadian Atlantic coast. The trip starts here to represent the program's reach from 'sea to shining sea'.
The first leg of the "Escort to Arlington" started after a breakfast in Harrington, ME on Sunday morning – where Morrill and Karen Worcester, along with the help of several volunteers (many of whom are veterans) finished making the thousands of wreaths that will eventually be placed on the graves of our fallen soldiers in Arlington National Cemetery.
This year, Joe's granddaughter, Paige joined him all day Sunday, where they made a total of six stops from Harrington to Scarborough. After attending one ceremony after another, with some time to reflect in the passenger seat between each stop, it's only natural that 14-year old Paige described the day as, "emotional". Joe's wish for his grandkids to, "understand the importance of the 'Remember. Honor. Teach.' mission of the program" was seemingly comprehended by Paige.
Cabela's in Scarborough was host to several proud citizens who braved the bitter cold and welcomed the convoy to their final stop of the day. After a moving tribute to fallen hero, Christopher Cash by the Wounded Heroes Program of Maine's, Pam Payeur – a wreath was presented to Cash's mother. At the end of the ceremony, a very humble Morrill Worcester put the magnitude of heroism and bravery, like Cash's, into perspective when he said, "I'm just a wreath-maker from Maine". A simple, yet resounding statement that reinforces the purpose of the ceremonial stops each day, like the one at Cabela's. Each stop on the way to Arlington, reminds people to never forget those who have sacrificed for their country, how important it is to show respect by honoring the lives that have been lost and to teach others that because of that sacrifice, we have freedom.
Follow along on Oakhurst's interactive map and watch the "Escort to Arlington" streamed live at http://waa.www.oakhurstdairy.com and be sure to take a look at the Dashboard Camera – you'll feel as though you're on the road with Joe and the rest of the convoy. Want to see who Joe has riding along with him? Check out the Cab Camera. Be sure to stay tuned to the blog for more notes from the road – including the trip through Southern Maine with former United States Marine Veteran and 35-year Oakhurst Sales Representative, Jeff Reinold as Joe's passenger. [ED NOTE: Event is over for the year, so links have been removed. Stay tuned for next year!]
For more information about the "Escort to Arlington" and how you can sponsor a wreath, visit www.wreathsacrossamerica.org.