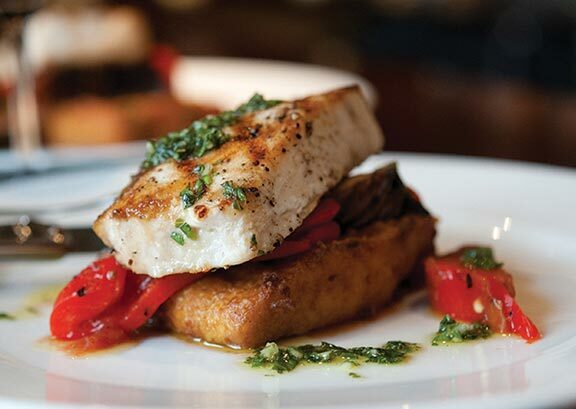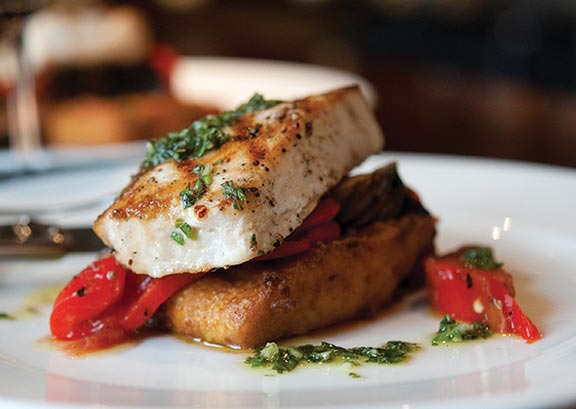 PREP: 45 min
COOK: 15 min
SERVES: 2
Swordfish Napoleon
SHARE THIS:
Mushrooms, asparagus, peppers, creamy polenta, crispy bacon and fresh grilled swordfish. Make mealtime history with this delicious dish.
Ingredients
Polenta
1-cup coarse cornmeal
2 cups Oakhurst Whole Milk
2 cups water
5 strips diced and crispy applewood smoked bacon
¼ diced and sautéed Spanish onion
Terrine
6 Portobello mushrooms
6 red bell peppers
18 stalks of asparagus
2 cups tomato sauce
2 Tbsp powdered gelatin
salt and pepper
Garlic Herb Drizzle
12 chopped basil leaves
1 Tbsp fine-chopped chives
¼ cup olive oil
1 Tbsp red wine vinegar
salt and pepper to taste
Swordfish
2 – 6 ounce center cut swordfish steaks
Preparation
For the polenta: Bring liquids to a boil, stir in cornmeal, cook till bubbly and thickened, approx. 10 minutes, stir in bacon and onion. Spread on small sheet tray evenly, should be about 3⁄4 in thick. Cool completely in refrigerator.
For the terrine: Grill cleaned mushroom caps and asparagus slightly oiled and seasoned with salt and pepper till just cooked through. Roast red bell peppers till charred. Clean peppers of char, seed and ribs trying to keep peppers whole. Warm up tomato sauce and add gelatin careful not to boil. In a meatloaf pan lined with plastic wrap layer vegetables starting with 2 bell peppers, then 2 mushrooms, 6 asparagus and between layer spread tomato sauce. Layer till all vegetables are gone. Fall plastic over top and completely chill 4 hours to overnight.
For the garlic herb drizzle: Combine in mixing bowl till incorporated, set-aside.
For the swordfish: Place on a heated grill, slightly oil and season swordfish steaks till desired doneness.
Assembly: Cut chilled polenta into 4" x 4" squares and fry in 350-degree fryer till golden. Lay on plate, take vegetable terrine and cut 1⁄2 slice off of end and lay on polenta. Next put swordfish on top of polenta. Take 1/4-cup arugula and toss in garlic herb drizzle, mound on top of swordfish and drizzle extra dressing around plate.
Yield: Serves 2
Author: Walter's Evening Sous Chef Rick Morey, Jr.
You might also enjoy...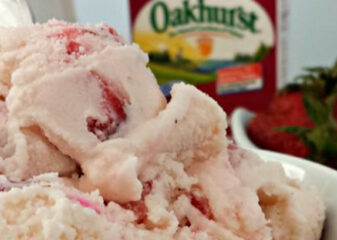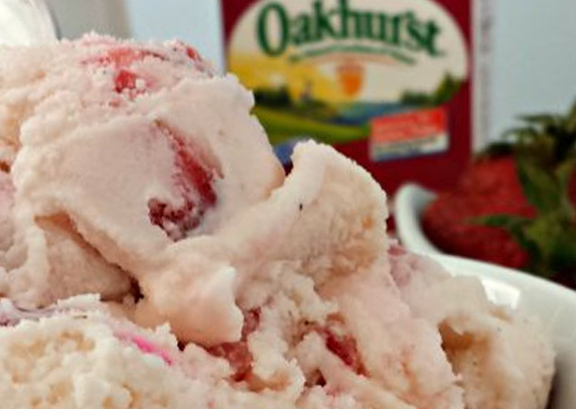 Homemade Strawberry Ice Cream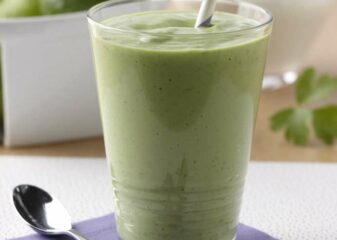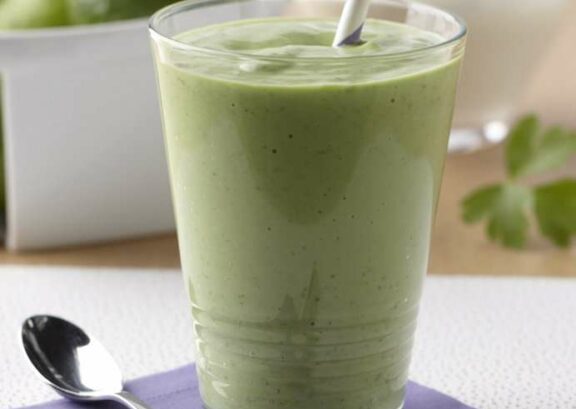 Shamrock Smoothie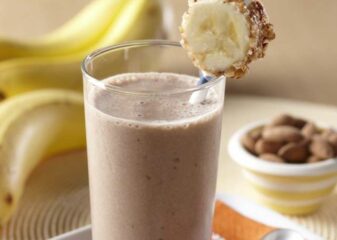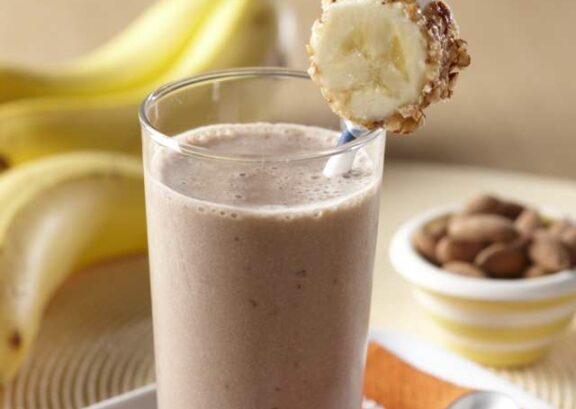 Protein Power Player Smoothie
You might also enjoy...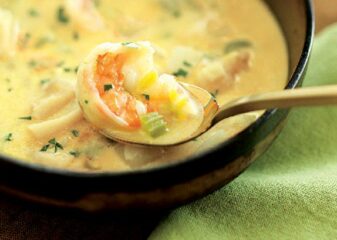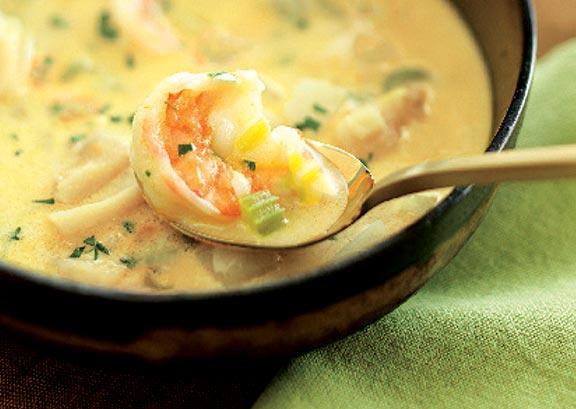 Seafood Chowder