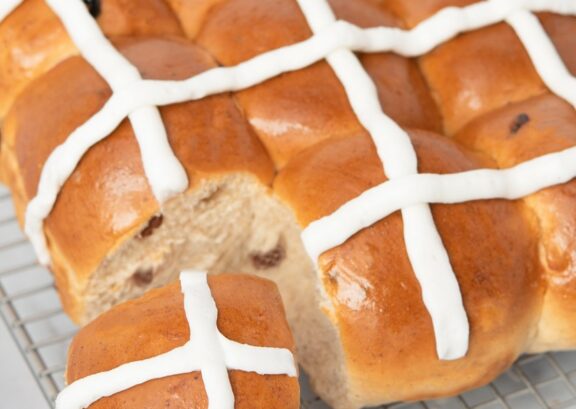 PREP: 3hrs
COOK: 25min
SERVES: 16
Hot Cross Buns
SHARE THIS:
Ingredients
Dough
3/4 cup Oakhurst whole milk, warmed to approximately 110°F
2  1/4 tsp active dry yeast or 1 standard packet of instant yeast
1 tsp sugar
1/2 cup packed light or dark brown sugar
5 tbl unsalted butter, softened to room temperature and cut into 5 pieces
1/2 tsp vanilla extract
2 large eggs, room temperature
1 tsp salt
1 1/4 tsp ground cinnamon
1/2 tsp ground nutmeg
1/2 tsp ground allspice
3 1/2 cup all-purpose flour
1 cup raisins or currants
Flour Cross
1/2 cup all-purpose flour
6-8 tbl water
Orange Icing
1 cup confectioners' sugar
3 tbl Oakhurst orange juice (or use Oakhurst milk and a splash of vanilla extract for plain icing)
Preparation
Prepare the dough: Whisk the milk, yeast, and granulated sugar together in the bowl. Cover and allow mixture to sit for about 5 minutes or until foamy on top.
Add the brown sugar, butter, vanilla extract, eggs, salt, cinnamon, nutmeg, allspice, and 1 cup flour. Mix on low speed for 30 seconds, scrape down the sides of the bowl with a rubber spatula, then add the remaining flour and the raisins. If you have a stand mixer, use a paddle or dough hook attachment. Beat on low speed until the dough comes together and pulls away from the sides of the bowl, about 2 minutes. Dough should be a little sticky and soft.
Knead the dough: Keep the dough in the mixer and beat for an additional 3 minutes or knead by hand on a lightly floured surface for 3 minutes.
1st Rise: Lightly grease a large bowl with oil or nonstick spray. Place the dough in the bowl, turning it to coat all sides in the oil. Cover with a clean towel and set aside for 1-2 hours or until double in size.
Grease a 9×13 inch baking pan or two 9-inch square or round baking pans. You can also bake the rolls in a cast iron skillet or on a lined baking sheet.
Shape the rolls: When the dough is ready, punch it down to release the air. Divide the dough into 14-16 equal pieces by pinching off golf ball size bunches with floured hands. Shape each piece into a smooth ball, pinching it on the bottom to seal. Arrange in prepared baking pan.
2nd Rise: Cover shaped rolls with a clean towel and allow dough to rise again until puffy, about 1 hour.
Preheat oven to 350°F.
Add the cross: Whisk the cross ingredients together, starting with 6 tablespoons of water. Mix to a thick paste that will pipe easily. Add remaining water if needed. Spoon paste into a piping bag or zipped-top bag. Snip off a small piece at the corner. Pipe a line down the center of each row of buns, then repeat in the other direction to create crosses.
Bake the rolls: Bake for 20-25 minutes or until golden brown on top, rotating the pan halfway through. If you notice the tops browning too quickly, loosely tent the pan with aluminum foil. Remove from the oven and allow rolls to cool for a few minutes as you prepare the icing.
Make the icing: Whisk the icing ingredients together, then drizzle or brush on warm rolls. Serve immediately.
Cover leftover rolls tightly and store at room temperature for 1-2 days or in the refrigerator for up to 1 week.
You might also enjoy...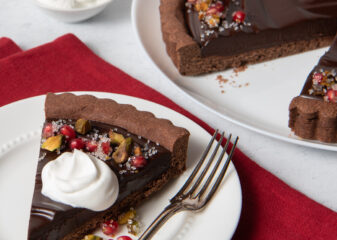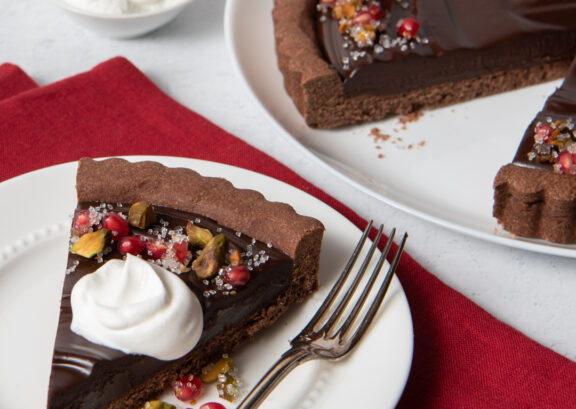 Holiday Deep Dark Chocolate Tart with Pomegranate & Pistachios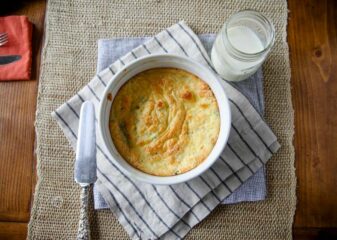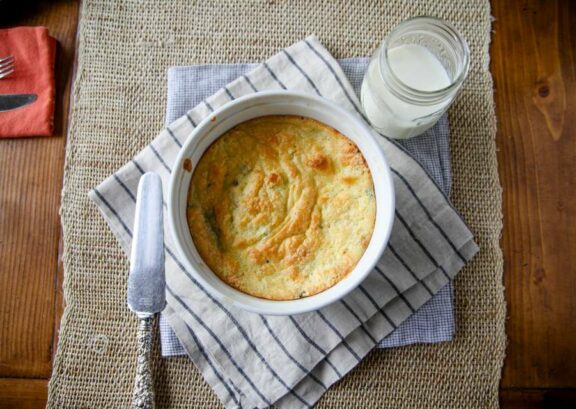 Spiced Up Soufflé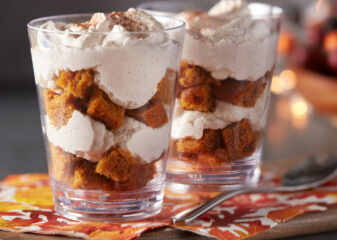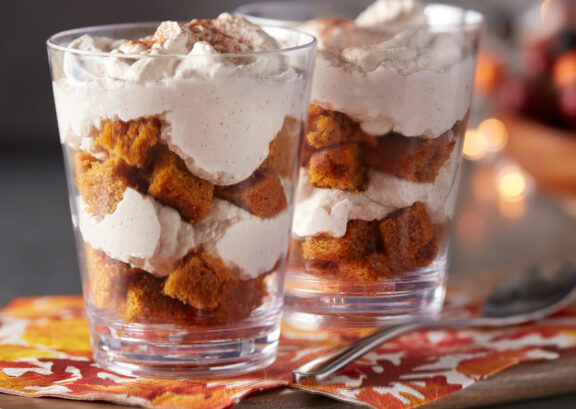 Pumpkin Parfaits
You might also enjoy...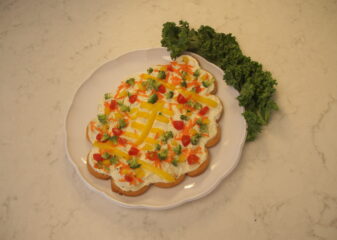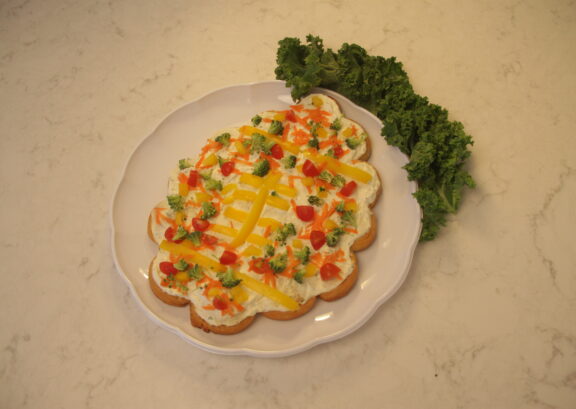 Football Veggie Pizza