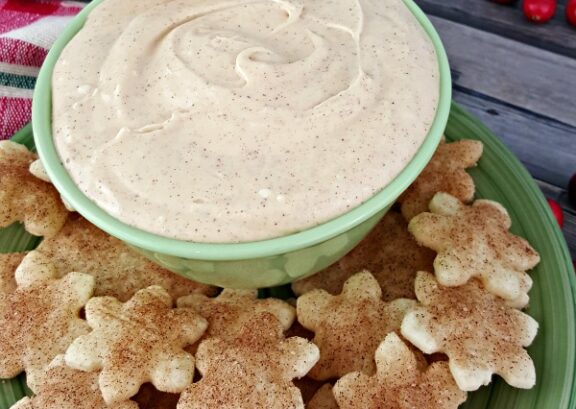 PREP: 10 min
COOK: 2 hr / 8 min
SERVES: 8
Egg Nog Dip with Cinnamon Sugar Pie Crust Dippers
SHARE THIS:
Whip up this Egg Nog Dip with Cinnamon Sugar Pie Crust Dippers for a sweet treat! It's perfect for making with the kids this holiday season.
Ingredients
8 oz. cream cheese, room temperature
1/2 cup Oakhurst Buttered Rum Egg Nog, room temperature
1 teaspoon vanilla extract
1/2 teaspoon cinnamon
1/4 teaspoon nutmeg
1- 1/2 cups powdered sugar, packed
Preparation
Whip the softened cream cheese until smooth. Mix in the vanilla extract, cinnamon, and nutmeg.
Beat in the Oakhurst Egg Nog – I used the Buttered Rum flavor.   Then add in the powdered sugar until the mixture is thickened.
Store in an airtight container in the refrigerator until ready to serve.
Cinnamon Sugar Pie Crust Dippers
Ingredients:
1 box prepared pie crust, room temperature
1/2 cup Granulated sugar
2 teaspoons ground cinnamon
2 tablespoons melted Oakhurst butter
Directions:
Line two baking sheets with parchment paper and preheat the oven to 350-degrees F.
In a small bowl, combine the granulated sugar and ground cinnamon.
Gently unroll the pie crust on a lightly floured surface. We used both a large and small snowflake cookie cutters to cut the pie crust.
Gently transfer the cut outs to the prepared baking sheet.  Brush each snowflake with melted butter, then sprinkle on the cinnamon sugar mixture.
Bake for 5-8 minutes until golden brown. Let cool before serving.
Recipe courtesy of: Juggling Act Mama
You might also enjoy...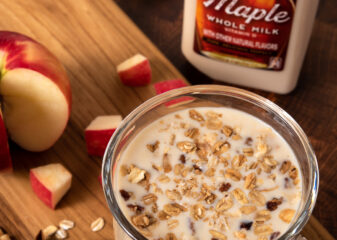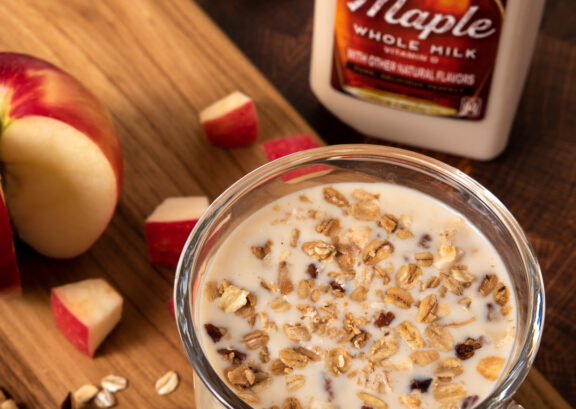 Warm Maple Oat Smoothie
Leprechaun Milk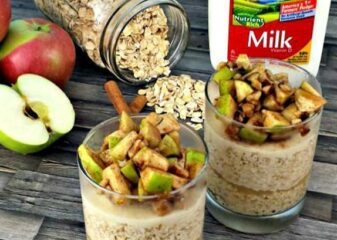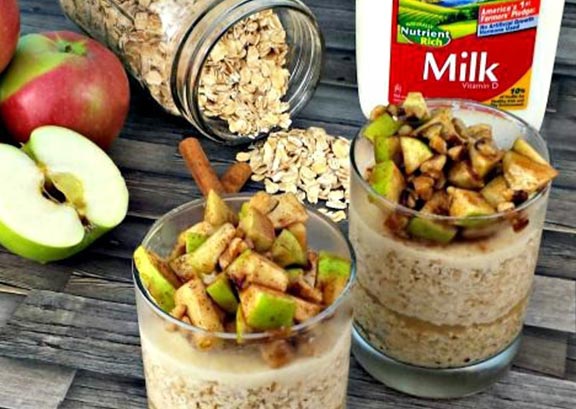 Apple Walnut Overnight Oats
You might also enjoy...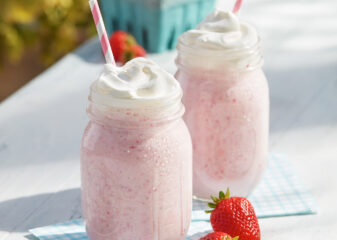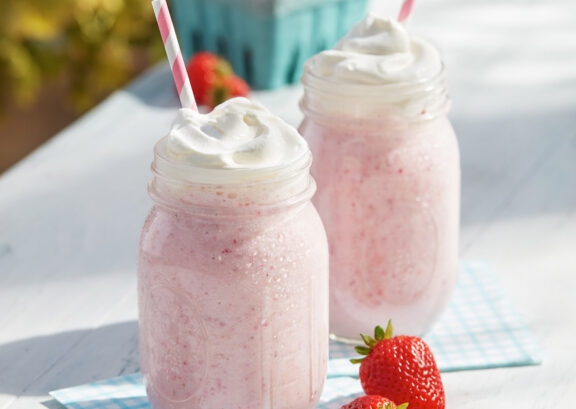 Strawberry Milkshake