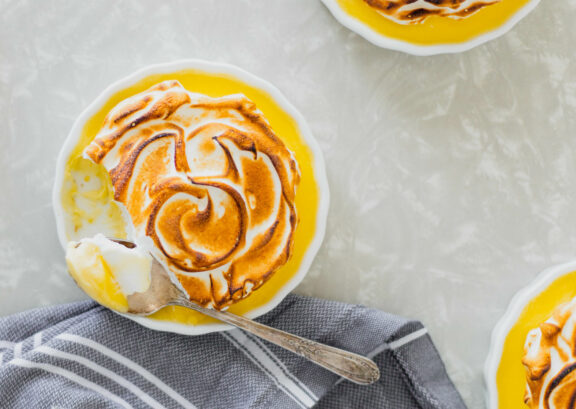 PREP: 4 hours (chilling time)
COOK: 20 min
SERVES: 4
Lemon Meringue Crème Brulee
SHARE THIS:
Ingredients
For the custard:
1½ cups Oakhurst heavy cream
6 tablespoons sugar, divided
6 egg yolks
2 teaspoons fresh lemon zest
½ teaspoon lemon extract
For the meringue:
½ cup sugar
3 tablespoons water
2 egg whites
Preparation
Preheat oven to 300 F. Place 4 shallow ramekins on a rimmed baking dish and set aside. Set a kettle of water on the stove to boil.
In a small saucepot, stir together the Oakhurst heavy cream and 3 tablespoons of sugar over medium heat. Cook until just steaming.
Meanwhile, whisk together the remaining sugar, egg yolks, lemon zest and lemon extract. Slowly and carefully stream in the hot cream to the egg yolk mixture, whisking constantly to temper the eggs and avoid scrambling the yolks.
Divide custard among prepared ramekins. Place baking tray with filled ramekins halfway into oven and pour boiling water halfway up the sides of the ramekins to create a water bath.
Bake in preheated oven for 18–20 minutes or until edges are set and center jiggles only slightly (like set Jell-O).
Remove ramekins from oven and water bath. Allow to cool completely on wire rack before chilling in fridge for at least 4 hours, or overnight.
When the custard is done chilling, beat together sugar, water and egg whites in a metal bowl until soft peaks form.
Pipe or dollop meringue onto custard and lightly brown with a torch.
Serve immediately.
Recipe and image courtesy of Half & Half, a food magazine celebrating dairy and those who make it. Learn more and subscribe at HalfandHalfmag.com.
You might also enjoy...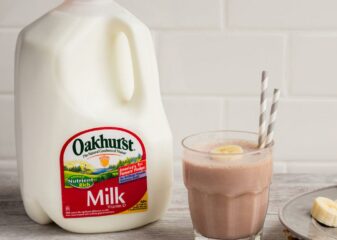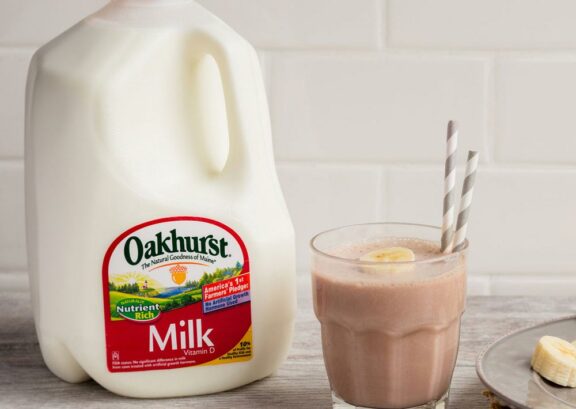 Chocolate Banana Smoothie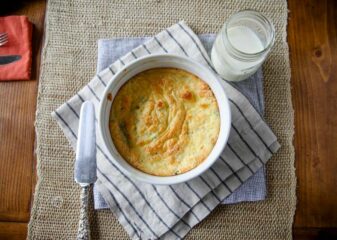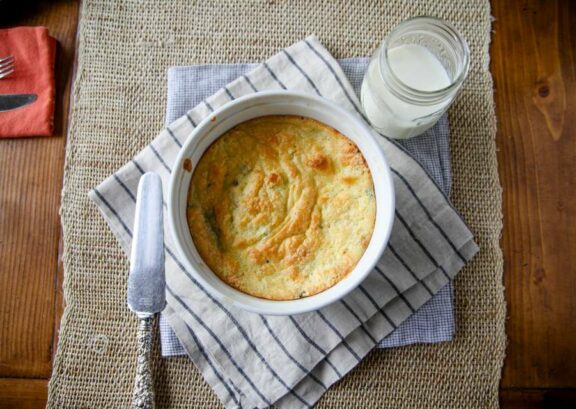 Spiced Up Soufflé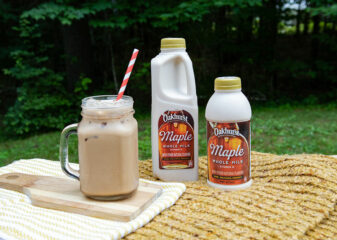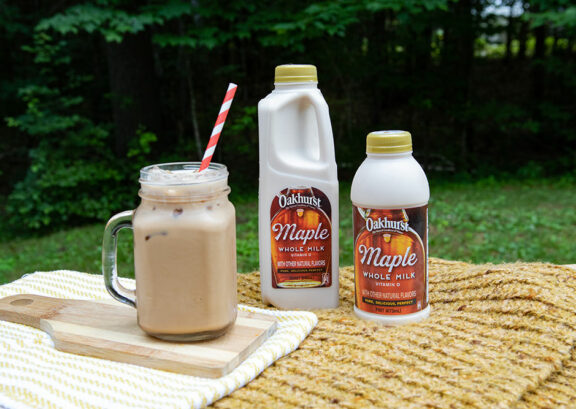 Maple Milk Latte
You might also enjoy...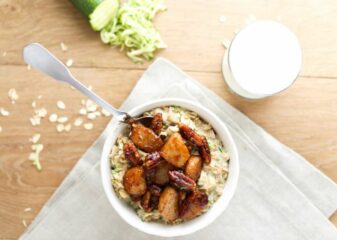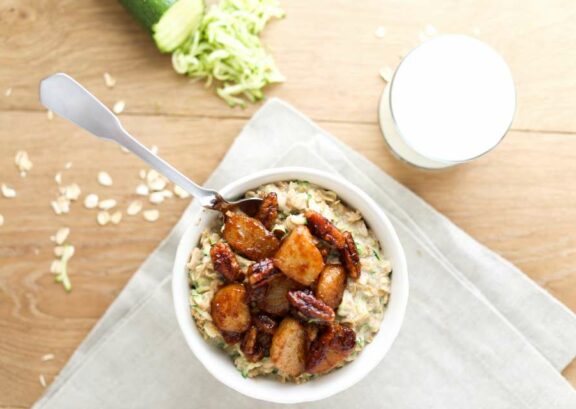 Caramelized Pear and Pecan Zoats