PREP: 60 min
COOK: 10 min
SERVES: 8
Butternut Squash & Pear Crepes Recipe
SHARE THIS:
Here's a savory way to make a versatile French breakfast at home. Mix butternut squash with pears for a unique flavor combination that creates a tasty twist on a traditional French crepe.
Ingredients
Crepe
1 cup – all-purpose flour
1/2 teaspoon – dried Italian seasoning
1/4 teaspoon – kosher salt
1/4 teaspoon – black pepper
3 – large eggs
1 cup – Oakhurst fat free milk
Nonstick cooking spray
Filling
1 tablespoon – unsalted butter
2 cups – peeled and diced butternut squash
1 teaspoon – garlic, minced
1/2 teaspoon – dried Italian seasoning
1/4 – kosher salt
1/4 teaspoon – black pepper
1/2 cup – water
1 tablespoon – soft, spreadable goat cheese
1 – medium pair (Bosc or Anjou), thinly sliced
Topping
1/3 cup – canned whole berry cranberry sauce
3 tablespoons – Oakhurst Orange Juice
1/4 cup – walnuts, finely chopped
1 teaspoon – fresh rosemary and/or thyme, finely chopped
Preparation
In a large bowl combine flour, 1/2 teaspoon Italian seasoning, 1/4 teaspoon salt, and 1/4 teaspoon pepper. In another bowl whisk together eggs and 1 cup milk until well blended. Add wet ingredients to dry ingredients and whisk until smooth. Cover and let sit for 30 minutes
Preheat and lightly grease a large skillet with nonstick cooking spray. Pour 1/4 cup of the crepe batter into the middle of the skillet and tilt skillet in a circular motion to get batter to spread into a large, thin disk. Allow batter to cook for 45 seconds – 1 minute until golden, and the top of crepe begins to look more dry. Flip, and cook another 30-45 seconds on the other side until golden. Repeat with remaining batter.
Melt butter in a large pan over medium heat. Add butternut squash, garlic, remaining Italian seasoning, remaining salt, remaining pepper, and sauté until squash begins to brown. Add water, cover, and cook for 7-8 minutes until squash is tender. Drain any excess liquid and transfer squash to a bowl. Add goat cheese to bowl and smash squash with a fork until blended with cheese.
In a small sauce pan combine cranberry sauce and orange juice and stir over medium-high heat until blended and hot throughout (about 2-3 minutes). Remove from heat.
Assemble crepes by filling each crepe with squash and cheese mix, and pear slices. Fold crepes in half and spread cranberry sauce over the top half. Sprinkle walnuts and herbs over the top and serve with remaining 8-ounce glass of milk.
Recipe and photo by Tiffany Edwards of Creme de la Crumb from the Milklike.com site.
You might also enjoy...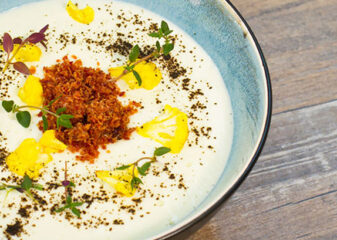 Cauliflower Cream Soup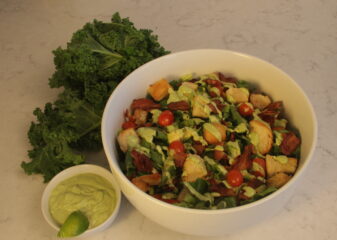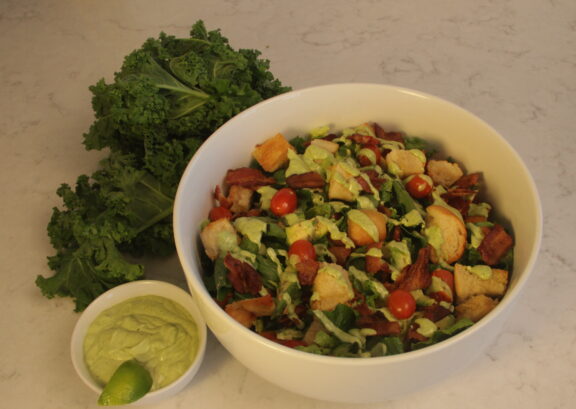 BLT Salad with Sour Cream Avocado Cilantro Dressing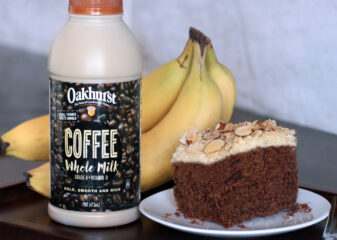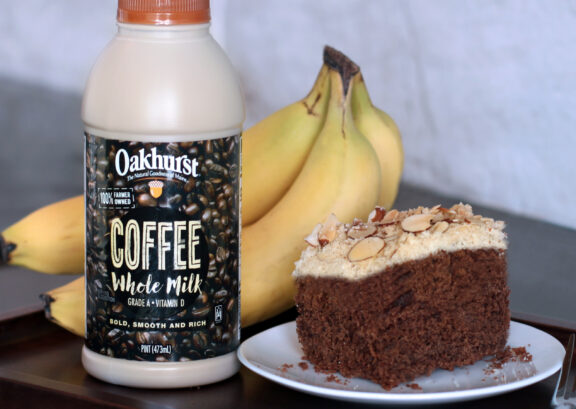 Oakhurst Coffee Milk Coffee Cake
You might also enjoy...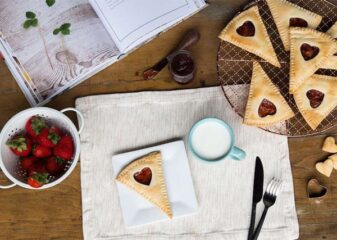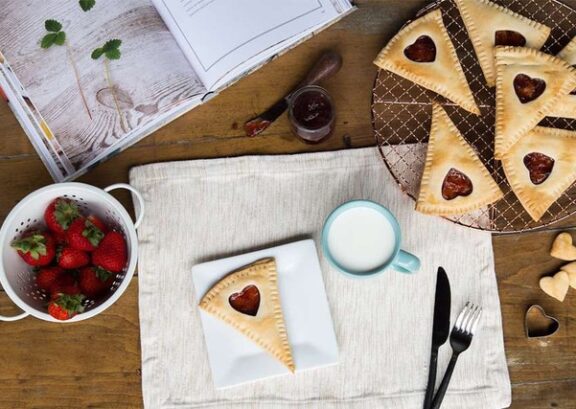 Homemade Pop Pastries