For the last seven years the holiday season has marked a special annual tradition for us here at Oakhurst. The company donates transportation services and one of our drivers to Wreaths Across America (WAA). This year the Oakhurst Wreaths Across America truck will have a new driver behind its wheel for the 750-mile trip from Maine to Arlington National Cemetery. Rick Gaecklein, an Oakhurst driver for the last four years and an active supporter of Veteran's charities, enthusiastically requested to make the trip over a year ago! Rick is a resident of Brunswick, a U.S. Navy veteran and an active fundraiser supporting a variety of Veterans' charities through a number of motorcycle rides, a passion he shares with his wife Lisa, who will join him on the weeklong journey.
"I'm honored Oakhurst has selected me to be its Wreaths Across America driver, and I anticipate the trip will be an extremely emotional experience as well as a rewarding one," said Rick. "I believe one of the more special moments for me will be arriving at Arlington National Cemetery. It will be my first time visiting this country's resting place for so many who have fought for and served our country. I know that it will be something I'll never forget."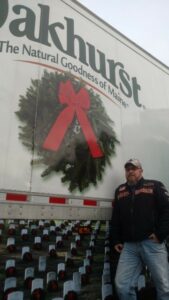 Rick continued: "The Wreaths Across America journey will be especially meaningful to me because every male in my family is a veteran including my son who is active in the Air Force. My family has been lucky and they have all made it home, but many of this country's heroes don't make it back, and it's important that we remember their sacrifice."
Wreaths Across America is a Maine-based non-profit that coordinates wreath-laying ceremonies at Arlington National Cemetery and other veterans' cemeteries in all 50 states and beyond. What began as a pilgrimage by Maine wreath maker, Morrill Worcester, in a single truck to deliver 5,000 wreaths he donated has become a national mission more than 25 years later to Remember, Honor, Teach. Today, the annual weeklong pilgrimage from Maine to Arlington National Cemetery is known as the world's largest veterans parade.
The very first ceremony of the trip will begin on Saturday, December 9th with a sunrise service at Quoddy Head State Park where the U.S. Atlantic coast meets the Canadian Atlantic coast. The trip starts here to represent the program's reach from 'sea to shining sea'. Eleven transportation providers, including Oakhurst will deliver the more than 200,000 sponsored wreaths to Arlington National Cemetery on National Wreaths Across America Day. During the weeklong journey, all involved will stop to participate in ceremonies paying tribute to this country's fallen heroes in Maine, New Hampshire, Massachusetts, Connecticut, New Jersey, Delaware, Maryland and Washington D.C. before arriving at Arlington National Cemetery on Saturday, December 16. On that final day, participants and volunteers will lay wreaths at the gravesites of our fallen heroes.
You can follow us along during the journey and watch the "Escort to Arlington" streamed live while the convoy is underway at http://waa.www.oakhurstdairy.com. Updates on the journey will also be posted to Facebook throughout the week.
For more information and to sponsor a wreath, visit www.wreathsacrossamerica.org.