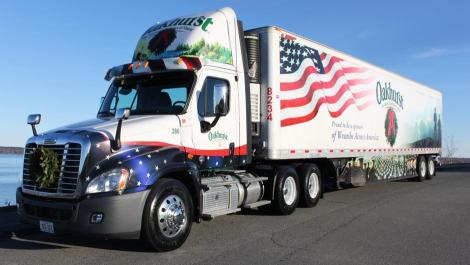 The Wreaths Across America Journey is a powerful tribute to America's fallen heroes. Anyone who has witnessed it first-hand would echo that sentiment. That's why, for the 5th consecutive year, we've decided to donate transportation services to Wreaths Across America (WAA) and help deliver 230,000 veterans' wreaths to Arlington National Cemetery on Saturday, December 12, 2015.  Jeff Reinold, a Vietnam War veteran and Oakhurst sales representative for more than 35 years will be joining our driver, Joe Masse, on the trip this year.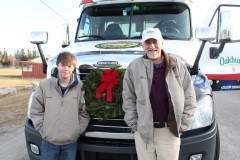 "For me, this trip is all about honoring those who served and the heroes who didn't come home", said a modest Reinold whose own bravery and service should not go unnoticed.
Wreaths Across America is a Maine-based non-profit that coordinates wreath-laying ceremonies at Arlington National Cemetery and other veterans' cemeteries in all 50 states and beyond.
The wreath-laying effort began in 1992 when Morrill Worcester of Worcester Wreath Company in Harrington, Maine, donated 5,000 evergreen wreaths to Arlington National Cemetery. Today, the annual weeklong pilgrimage from Maine to Arlington National Cemetery is known as the world's largest veterans parade. The event is made possible by thousands of volunteers who organize local ceremonies, raise funds to sponsor wreaths, and participate in the events. The cost of the program is paid by individual wreaths sponsors and corporate donors. Volunteer professional truck drivers make the trip each year carrying truckloads full of wreaths.
The very first ceremony of the trip began early yesterday morning with a sunrise service at Quoddy Head State Park where the U.S. Atlantic coast meets the Canadian Atlantic coast. The trip starts here to represent the program's reach from 'sea to shining sea'. The parade will conclude next Saturday, December 12th with a wreath- laying ceremony at Arlington National Cemetery. This year they anticipate delivering and placing 230,000 wreaths at Arlington National Cemetery.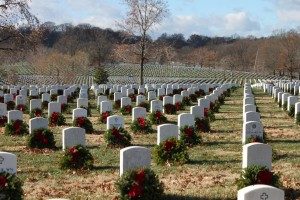 You can follow along during the journey on Oakhurst's interactive map and watch the "Escort to Arlington" streamed live at http://waa.www.oakhurstdairy.com. Be sure to take a look at our Dashboard Camera – you'll feel as though you're on the road with Joe and the rest of the convoy. Don't forget to check out our Cab Camera, too.
For more information about the "Escort to Arlington" and how you can sponsor a wreath, visit www.wreathsacrossamerica.org.