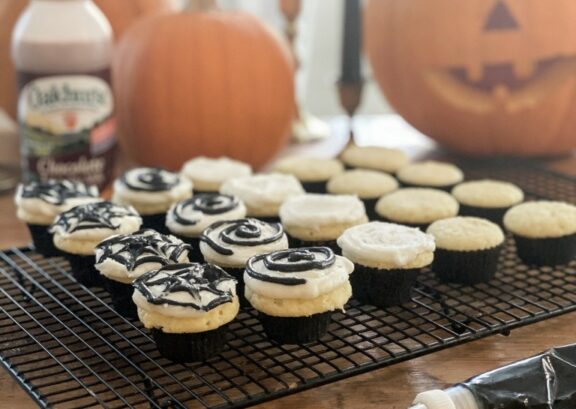 PREP: 30 min
COOK: 17 min
SERVES: 36
Mini Vanilla Spider Web Cupcakes
SHARE THIS:
Ingredients
Vanilla Cupcakes:
1 cup cake flour

½ cup all-purpose flour

1 cup sugar

1 ½ tsp baking powder

½ tsp salt

½ cup (1 sticunsalted butter room temperature and cut into small pieces

2 eggs

½ cup Oakhurst whole milk

1 tsp vanilla extract
Buttercream Frosting:
½ cup (1 sticsalted butter – softened

4 cups confectioners' sugar

4-5 TBSP Oakhurst whole milk

1 tsp vanilla extract
To decorate cupcakes:
Small cake decorating spatula or butter knife

Small piping bag or plastic food storage bag

Size 6 piping tip

Black food coloring gel or paste

Mini spider sprinkles

Bamboo skewer
Preparation
To make the cupcakes:
Preheat oven to 325 and line your mini muffin cups with muffin liners.  I found the cutest black liners with spider webs at my local craft store…have to stick with the theme!

In your stand mixer combine your flours, sugar, baking powder and salt and mix until everything is incorporated.  Next add your butter and beat until it's nice and crumbly. You aren't looking for it to turn into a cookie dough, just have little pieces of butter all covered with your flour/sugar mixture.

In a separate bowl whisk together your eggs, Oakhurst whole milk and vanilla extract. Add half to your mixer and beat until combined.  Add the second half of your wet ingredients and mix until everything has just come together, making sure to not over mix.

Using a small cookie scoop (2 tsp size evenly divide the batter among the lined baking tins. Bake at 325 for 8 minutes.  At this point you will want to rotate your baking pan. Bake for another 8-9 minutes until a toothpick comes out clean (baking for a total of 16-17 minutes).
To make buttercream:
In the bowl of a stand mixture slowly combine all ingredients starting with 4 TBSP Oakhurst whole milk.  Slowly increase the speed to high speed and beat until light and airy. Add another tablespoon of milk if needed to make a smooth, spreadable frosting.
To decorate cupcakes:
In a small bowl reserve about ½ cup worth of the frosting. Mix in enough food coloring until true black. Transfer your black frosting to your piping back or plastic bag fitted with your #6 piping tip.

Frost each cupcake with a dollop of white frosting and spread evenly using the small cake decorating spatula. Pipe a swirl of black food coloring. Use the bamboo skewer to create web lines by starting in the middle and pulling the frosting out 6-7 times each cupcake.
You might also enjoy...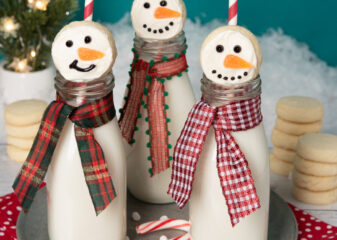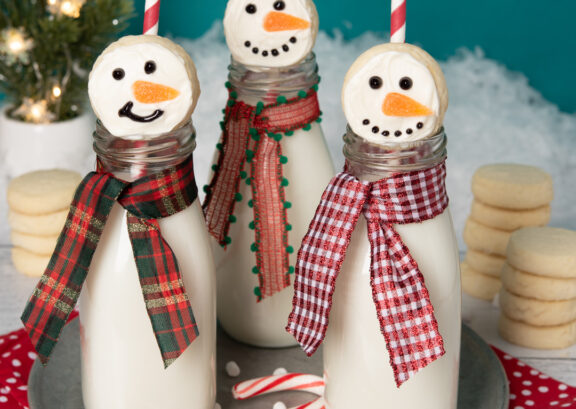 Sour Cream Snowman Cookies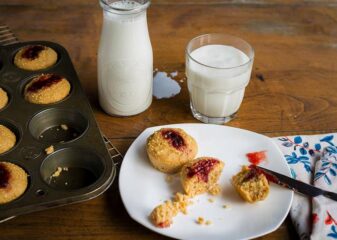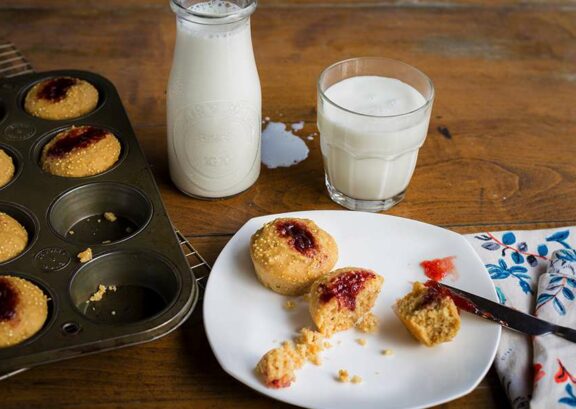 PB & J Protein Power Muffins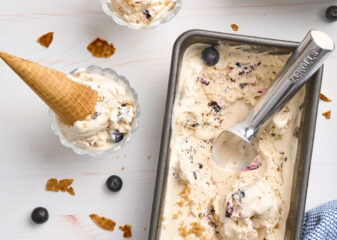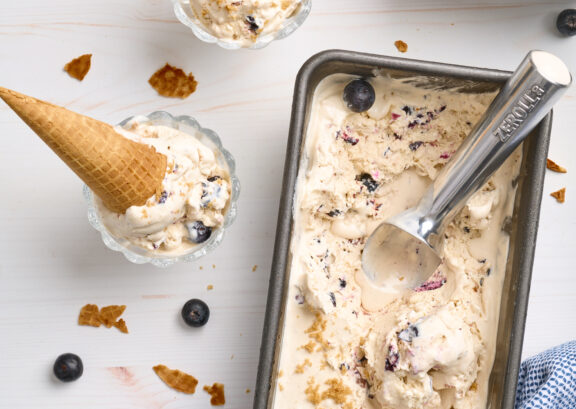 Blueberry & Brown Sugar No-Churn Ice Cream
You might also enjoy...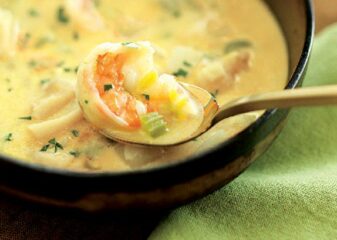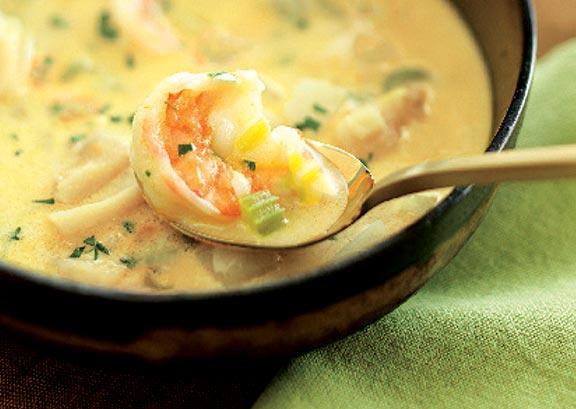 Seafood Chowder