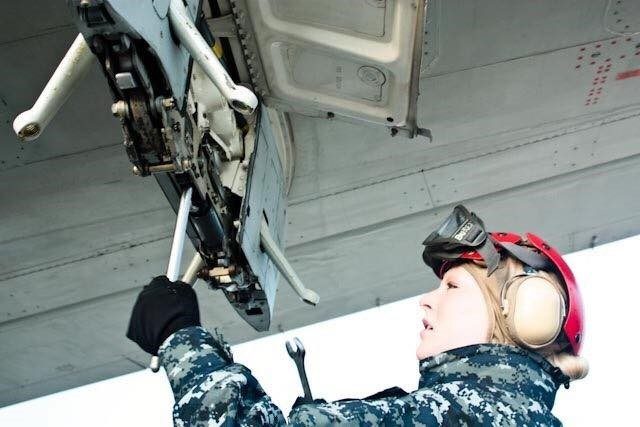 Earlier this month we launched our "Thank a Veteran" Giveaway and as per usual, you all blew us away with your thoughtful, emotional entries. We could only pick one winner, but we wanted to share our appreciation for the bravery and sacrifice of everyone who entered and also take this opportunity to express our gratitude to every veteran who has served this great country.
Serving our country is a tough (arguably the toughest) job, and one of the most meaningful. We honor, we applaud you, and most importantly we thank you. We are the land of the free because of the brave, and we will never take that for granted.
This Veterans Day, please keep these special service members in your thoughts, who were nominated by their friends and family. Their stories are truly inspirational.
"I would like to recognize a Veteran who is just simply an amazing woman! She is a Veteran, a teacher and a super mom! Her husband currently serves and while he is away, she is a super mom! She was a pre-school teacher at my son's school. She has had some major hardships this year and has always bounced back because she is such a strong and compassionate woman. She is such an inspiration to all women!!! I would like to thank her not only for her service to our country but for being an amazing role model to all women." –Sarah Adams Rulman."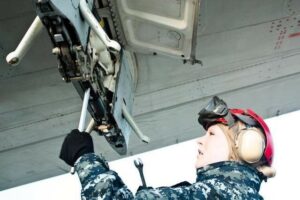 "My husband, Jon, has been in the military for over 17 years. He's been on four deployments and continues to proudly serve. He does a lot for our family and is always there for our kids and me, even if not always in the physical sense. We've had a crazy year: got married, had a baby, went through our then-10-week-old having surgery, and bought a house! Jon always finds a way to make sure we are all taken care of, no matter what." – Jen Lapalme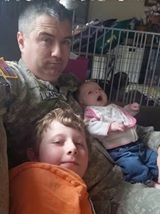 "My cousin Toby is a veteran. He joined the army at a very young age and even had to miss his son's first steps. He is an incredible person." – Amanda LeClair Goodrich
"This is my fiancée Robert Thomas. I met him 16 years ago in Hawaii where he was based and we immediately became glued to other. Ever since he got out he always worked hard to provide for us, help our friends in need, always without hesitation. We love this man with all our heart." – Emily Andrews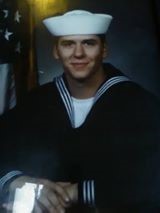 "I want to share a recognition of my husband's grandfather. He was truly an amazing man. He joined the Navy at 17 and served there for 4 years. He then joined the Air Force and served there for 20 years. He married the love of his life after he retired from the Navy and before he joined the Air Force (she didn't want to marry a Navy guy because he could be deployed on a ship/submarine for months on end. In the Air Force, he learned many languages. He spoke fluent Japanese and Russian. I think he might have spoken some Chinese too. Grampy was a kind and loving man. He went to school after he retired from the Military and got his Master's in education. He became a teacher and ended up becoming a Principal. He inspired so many people to become the best that they can be. He passed last year and we love and miss him so much." – Tosha Foster
"I'd like you to meet PFC Blaine Adams. I don't know if he qualifies for this contest since on November 29, 2008, he died in a training accident he was 19 yrs old. Blaine joined the US army when he was 17. He is my younger brother…He had a huge heart. My brother is my hero. His nephew Lucas only met him twice, he was a baby. My brother loved him so much. He bought Lucas a power wheels truck, 8 yrs later my son still has it…My brother was simply the best man I knew. He was loving, kind, supportive and smart. He sacrificed so much for his country. He had so much he planned to do… college, a family, seeing different parts of the world. We once asked why did you want to join the army, he replied I want to better myself and my life. That's the young man I'm proud of and honored to be called his sister." – Millissa Pierce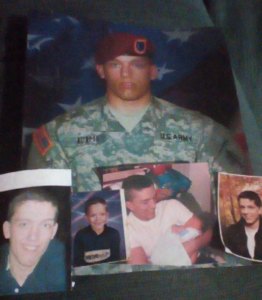 "I would like to recognize my grandfather, Clarence Conway, who served during the Korean War. In the photo, he is on an Honor Flight Maine trip to see his memorial in Washington DC. He was one of the first to go on a Maine Honor Flight, and active in the early days of the organization. In addition to serving, he has also been a volunteer firefighter for over 60 years, and was Maine Firefighter of the Year in 2004." – Alan Barker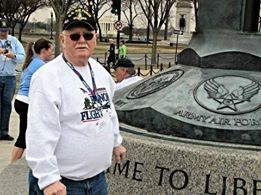 "This is my grandfather from WWII, where he met my grandmother before returning from France (small pictures on bottom is my grandmother). He received the highest level of honor during his service time. When he was stationed in France he met my grandmother. They fell in love during his time there. When he was ready to leave she said she was very sad, then he surprised her with a proposal. They returned to America together, married and that was the beginning of our wonderful family!" – April Rumery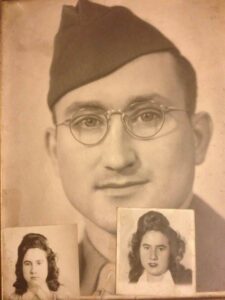 "My brother, SSgt Nathan Collin of the USAF, is my favorite vet. He's in his 11th year of service and has been deployed to the Middle East for several tours. He's working his way back to the US from one this week. He's sacrificed so much of himself and his life to do what he does and somehow he keeps his sense of humor. My son absolutely adores him and even has a build-a-bear dressed in camo that he calls "Uncle Nate." – Cheri Michaud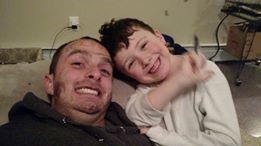 "My story is about an amazing man named Angel. Lance Corporal Angel Rosa of South Portland, Maine to be exact. An incredible man, a Marine, a community activist, soccer star, brother, son, best friend, husband to a beautiful soul, and godfather to my daughter whom we named after his wife. His love for his family and community is matched only by his love for his country. In 2007, Angel gave his life for that country, that family, and that community. He was killed on a mission in Al Anbar, Iraq at 21 years young protecting his brothers in arms and his home so far away. My daughter teaches her class every year about her "unkie" and we keep his spirit alive every Veterans day with flags with his name on them." – Jennifer Manzo
"My fiancé Craig Oxley is in the military. He balances running a company, being a Sergeant and being a dad to 3 boys. He has had to miss out on important stuff for the kids, but he is our hero and we love him." – Robin Hakins
"We love our Airman!" – Samantha Miles-Freeman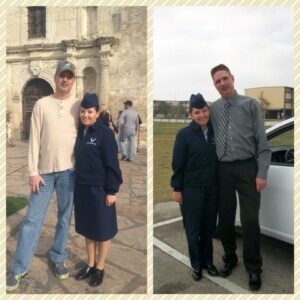 "This photo is from our favorite Veteran's return home from his deployment this past August. He may travel the world as a pilot in the USAF but no matter where we live, we will always consider Maine to be our home." – Jennifer Maurais Luce