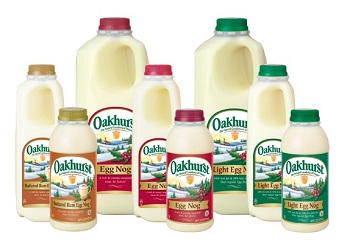 This year, traditional Egg Nog connoisseurs need to be more conscious than ever and carefully check the labels of their favorite brands. Why? With the egg shortage this past summer, some of the brands are eliminating the use of real eggs as an ingredient in their holiday offering and you might find "Nog" or "egg nog flavored dairy beverages" on shelves instead. But don't worry- not Oakhurst! Our Egg Nog is our pride and joy, and we remain committed to using real eggs, as we have for generations, to create our creamy delicious seasonal Egg Nog.
"Every year, we hear from so many New Englanders how much they love the taste of our Egg Nog," said John Bennett, President of Oakhurst. "A key ingredient to our seasonal winter beverage recipes is real eggs. With the kind of consumer feedback we've received over the years, we couldn't imagine changing our recipes even in the face of increased ingredient costs."
Our classic Egg Nog, Light Egg Nog and Buttered Rum Egg Nog will reach stores in late October and can be found in pint, quart and half-gallon sizes. And remember, don't wait, Egg Nog is a seasonal beverage and it will disappear from store shelves in January.
Another Reason to Love Oakhurst Egg Nog
In addition to staying true to our classic Egg Nog recipes dating back generations, we also remain committed to our annual holiday giving tradition of donating five cents to The Salvation Army of Northern New England for every container of Egg Nog sold. Last year, we donated $21,257 to the organization – the largest donation in the history of the annual holiday fundraiser. Over the last 16 years, we've contributed more than $260,000 to The Salvation Army through this annual effort.
The Salvation Army continues its long-standing tradition of serving "Others" by providing children, adults and seniors assistance and enrichment programs. Salvation Army Divisional Commander, Major James LaBossiere states, "At Christmas time and throughout the year, local individuals and families are finding themselves in need of a helping hand. Every cent raised helps us to help those in need and we could not do it without the support of Oakhurst and their generous customers. Thank you."
For information about The Salvation Army, please visit http://nne.salvationarmy.org/portland-me.