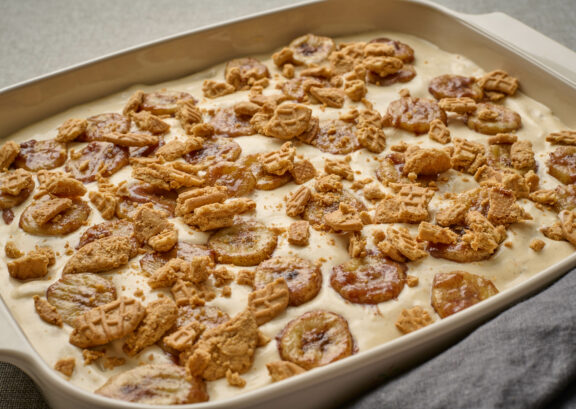 PREP: 1 hour
COOK:
SERVES: 8
Peanut Butter and Roasted Banana Pudding
SHARE THIS:
Ingredients
6 bananas, ripe or unripe
2 tablespoons salted butter, melted
¼ cup brown sugar
1 teaspoon cinnamon
2 cups Oakhurst Whole Milk
1 small box instant vanilla pudding
2 cups Oakhurst Heavy Cream
1 8-ounce block cream cheese, softened
1 14-ounce can sweetened condensed milk
2 tablespoons peanut butter
1 package peanut butter sandwich cookies
Preparation
Heat oven to 350 F and line a baking sheet with parchment paper. Peel and slice bananas and place on prepared baking sheet. Toss with melted butter, brown sugar and cinnamon until fully coated. Bake 30 minutes, or until bananas have started to caramelize. Remove from oven and let cool completely.
While bananas cool, pour 2 cups cold whole milk into a medium-sized bowl. Whisk in instant pudding until thickened. Refrigerate 5 minutes.
Pour heavy cream into the bowl of a stand mixer fitted with the whisk attachment. Beat on medium-high speed until soft peaks form. Scoop whipped cream into another bowl and set aside.
Replace the whisk attachment with the paddle attachment and beat together cream cheese, sweetened condensed milk, peanut butter and 2/3 of roasted bananas on medium speed until smooth. Slowly beat in prepared pudding. Using a spatula, fold in whipped cream.
Layer peanut butter sandwich cookies in the bottom of a 9-by-13-inch baking dish. Spread half of the pudding mixture onto sandwich cookies. Top with another layer of sandwich cookies followed by remaining pudding mixture. Crush remaining sandwich cookies into crumbles in a zip-top bag. Top final pudding layer with remaining slices of bananas and crumbled sandwich cookies. Refrigerate at least 2 hours before serving.
Recipe from halfandhalfmag.com
You might also enjoy...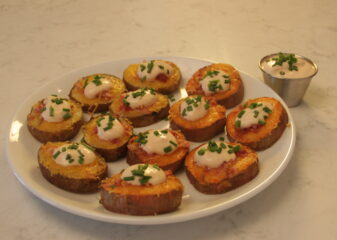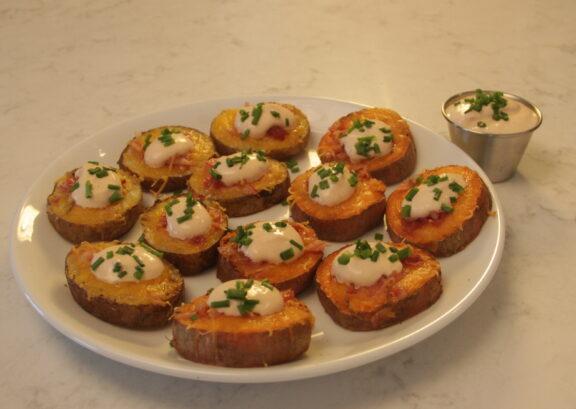 Loaded Baked Potato Sliders with Chipotle Cream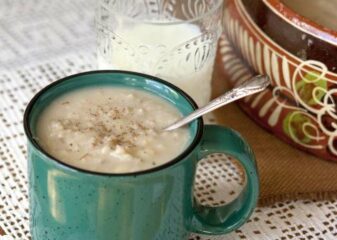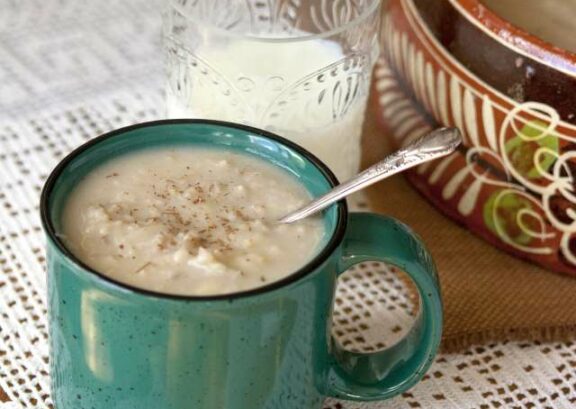 Mexican Apple-Cinnamon Oatmeal Recipe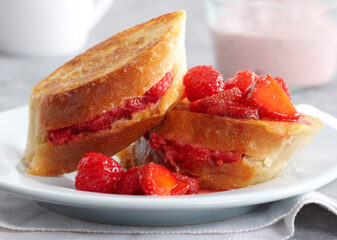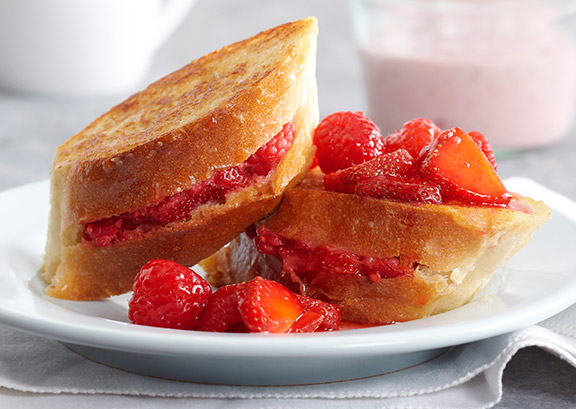 Berry-Stuffed French Toast with Vanilla Yogurt Sauce
You might also enjoy...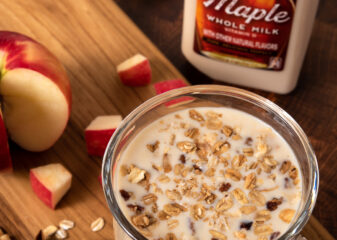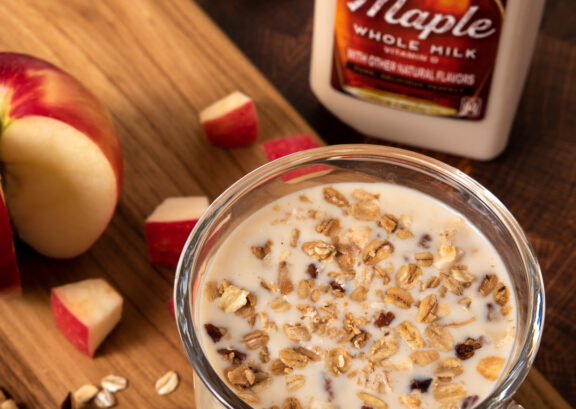 Warm Maple Oat Smoothie