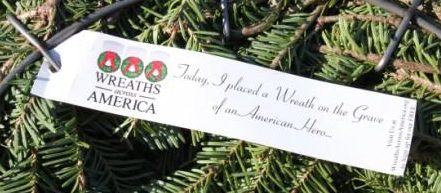 Today is the big day. The Oakhurst truck filled with thousands of wreaths arrived at Arlington National Cemetery early this morning and our volunteers have begun unloading it for the official wreath laying ceremony at 10:30 am. According to Joe Masse, our volunteer driver, and Jeff Reinold, a 36-year Oakhurst employee and Vietnam War Veteran, it's been an amazing journey and an incredibly moving experience for both of them.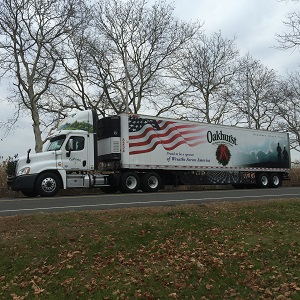 Before Joe and Jeff started unloading the Oakhurst truck, and begin the emotionally moving act of helping place thousands of wreaths on the graves of our fallen heroes, they shared with us some uniquely special moments from their journey this past week.
According to Jeff, the incredible women of The Gold Star Wives of America really stood out in his mind. He shared a particularly moving conversation he had with one of these women. She told Jeff that she and her husband had lived in California – very close to where Jeff had lived at the time – and that her husband had been deployed around the same time as Jeff. "This trip brings people together from far and wide, but sometimes the world is an incredibly small place," said Jeff. The woman continued her story and told him that when her husband left she was only 21 and that she was three months pregnant. She also told him that it was only a few months later when there was a knock at her door bringing with it the bad news that her husband had been killed. She said she hid from the messenger because she couldn't bear to hear the news, and let her father greet their unwelcome visitor. She spoke of how devastated she was at the time but how incredibly happy she is that her husband's memory lives on through this incredible event and its mission to Remember, Honor and Teach.
Jeff then told us that her story, along with the countless others he has heard this week, reinforced in his mind that the real heroes are those buried at Arlington. We believe that every man and woman living or dead who has fought bravely for our country is a hero and should be honored as one.
It came as no surprise that Jeff went on to say that because he found the trip so awe-inspiring, he plans to be a part of the annual Wreaths Across America pilgrimage to Arlington National Cemetery every year until he physically can't do it anymore. He also notes that the Wreaths Across America initiative has inspired him to dedicate his free time to a cause that involves honoring our country's veterans when he retires. He said, "This trip has made me realize that I HAVE to be involved with an organization like Wreaths Across America."
Both Joe and Jeff echo the sentiment that the crowds along the convoy route from Maine to New Jersey have been incredible, but they did say they felt that Mainers were the most patriotic, standing in the streets as the trucks drove by, waving flags and shouting "thank you." They concluded that the outpouring of support and patriotism has been so inspiring and moving that it's really hard for them to put it all into words.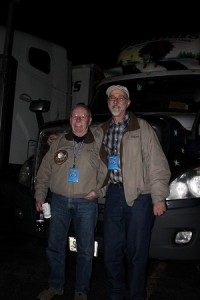 Thank you Joe and Jeff for representing Oakhurst on this important journey and for being there to help pay tribute to American's fallen heroes.