If you're the adult that always wishes they would get seated at the kids table – this is the blog for you! Five fun kid's activities that will not only keep the little ones occupied – but will also make their table sparkle (and not in the "OMG there's glitter everywhere!" way).
Do you have a fun activity you do with your kids every Thanksgiving? Share with us on Facebook!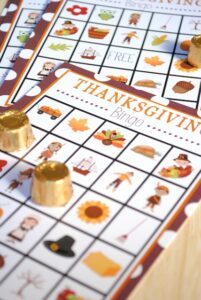 This adorable Bingo card is already designed and ready to go (get the free printable here: https://crazylittleprojects.com/thanksgiving-bingo/) and is such a fun way to keep the kids entertained before dinner. Picky eater in the house? You could also fill the card with all kinds of different Thanksgiving foods and challenge the kids make "bingo" by trying a bite of each!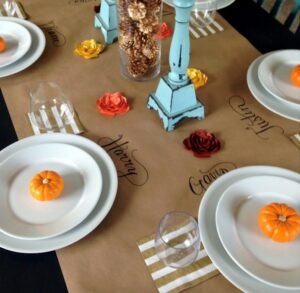 No need to ruin a perfectly good white table cloth by placing it even remotely near the kids table. Instead, try this genius parenting hack and cover the table with Kraft paper. (Super cute design ideas here: https://bydawnnicole.com/2014/11/kraft-paper-table-runner.html) It makes for a really pretty aesthetic, is easy to clean, and also gives the kids a place to color while they wait for their turkey dinner!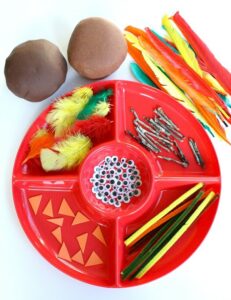 Don't worry, the dough isn't actually made out of turkey! Instead, roll up some regular Play-Dough into small balls, and provide the kiddos with various decorations to create their own Thanksgiving turkeys (get some great decoration ideas here: https://www.fantasticfunandlearning.com/thanksgiving-turkey-play-dough.html). Super cute, and great for working on fine motor skills.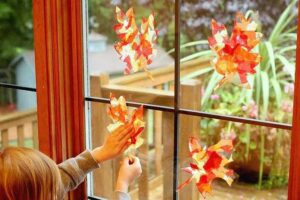 If nothing else, kids are great at ripping things up. Put that skill to use with this fun sun catcher project. Let the kids rip up the tissue paper, press into a self-laminating pouch, and then cut into the shape of your favorite fall leaf. Get the full tutorial here: http://www.ehow.com/13559464/how-to-make-beautiful-leaf-suncatchers/.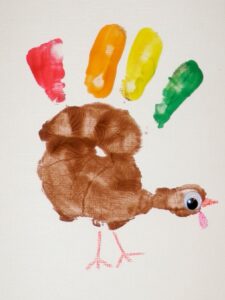 An oldie but goodie, this craft never seems to lose its appeal, especially amongst the finger paint lovers! Pull some (washable) paints out of the craft box, maybe grab a couple of googly eyes, and get started creating your own Thanksgiving turkeys. We love the idea of writing something your child is thankful for on each feather as well!