It's officially October which means it's time hang the cobwebs (instead of clean them) and start shopping for the 16 different costumes your kid inevitably "has to have" (a new idea every other day). Unfortunately, we can't help you with the costume indecision – but we do have 4 easy-to-make, spooky snacks that kids will love either after school or at their next Halloween party.
Do you have a favorite Halloween treat? Share with us on Facebook!
These super cute ghosted milk shooters require only one ingredient – milk! Simply pour into a tall shot glass and use a sharpie to create ghost eyes and a mouth. Garnish with sprinkles, cookies or other treats as you see fit. It's the perfect way to add a little protein and calcium to an otherwise sugary evening.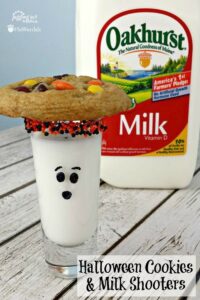 Not all Halloween snacks have to include candy. This adorable take on a spooky snack is made from apples, peanut- or sunbutter, sunflower seeds, strawberries and of course, googly eyes. Get the recipe here.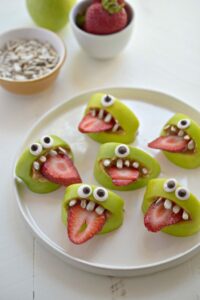 You probably don't want your kids eating candy for breakfast, but this Grapefruit Jack-O-Latern is the perfect way to bring Halloween fun into your morning routine. Empty and carve out a grapefruit, then fill with fruits, veggies, cereal or any other of your morning staples. Get the instructions here.