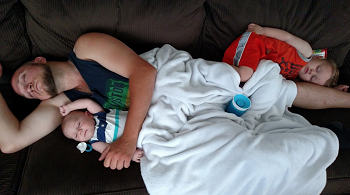 They say anyone can be a father, but it takes a real man to be a dad. All we can say is these guys are totally nailing it.
This dad took a leave of absence from his job to be by his daughter's side for every single one of her chemo treatments and procedures since last December. Talk about hero status.
With 2 kids under 2, naptime can be hard to find. This guy is clearly an experienced pro.
Sometimes dads get a bad rap when it comes to dressing their daughters or doing their hair. But this daddy gets all three of his kids dressed and ready every morning while his wife heads into work early – and does a pretty amazing job of it based on this picture. Seriously, how cute is that outfit?!
This lucky dada finally got his rainbow baby after two heartbreaking losses. Talk about true love. <3 <3 <3
This guy says he and his daughter are so much alike, he calls her his "soul mate". Seriously, just stop. Too cute!!
Out making memories with his 6-year-old son, hard at work on their dairy farm. Ahhh, be still my heart.
This super-human dad managed to graduate college while getting married, having a kid, working two jobs AND volunteering. He must have figured out a way to add extra hours to the day…
This adventurous dad not only raised his own two boys by himself but also stepped in to raise his partner's kids as well after they met 7 years ago. Today, he's also added grandpa to his resume…that's quite the CV!
Umm, could this get any cuter?! Mike is a stay-at-home-dad to his adorable little daughter – and his wife says he's absolutely killing it in his new role. Somebody give this man a bonus!
Smart like IronMan and strong like The Hulk, this daddy is a true superhero. A former Army vet, he now works 60+ hours a week to provide for his family and somehow also manages to be home in time to kiss them all goodnight. <3
Thanks for sharing your awesome dads with us – and congratulations to our Father's Day Giveaway Winners, Mikell Reed Carroll and Leah Farrell!