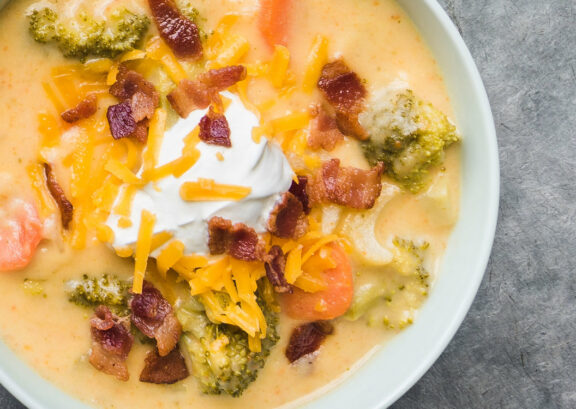 PREP: 15 min
COOK: 30 min
SERVES: 4-6
Potato Soup
SHARE THIS:
Here in Maine, we love potatoes. Baked potatoes, potato bread, Potato donuts, and even potato candy. Celebrate this humble ingredient by making this delectable potato soup from  Half & Half .
Ingredients
6 strips bacon
1 head broccoli
1 tablespoon butter
3 carrots
3 stalks celery
1 small onion
6 potatoes
8 ounces cheddar cheese, shredded
1 carton (4 cups) chicken broth
½ cup Oakhurst heavy cream
1½ Oakhurst Whole cups milk
1 8-ounce container Oakhurst sour cream
salt and pepper
Preparation
Chop the broccoli, carrots, celery, onion and potatoes into small bite-sized pieces (taking care to separate the broccoli florets from the diced stock). Cut the bacon into small strips as well.
After the prep-work is done, fry the bacon strips in a large pot over medium-high heat. Once they're fully cooked, remove the bacon from the pot and reserve the bacon pieces to top your soup. Remove all but approximately 2 tablespoons of the bacon grease from the pot and discard. Add the broccoli stocks, carrots, celery and onion to the pot and cook on medium-high for 5 minutes, stirring frequently. Add the potatoes, broccoli florets and butter to the pot and continue to cook and stir the vegetables for 3–4 more minutes. Add the chicken broth and a dash of salt and pepper, and allow the pot to come to a boil. Reduce the heat to medium and simmer for 15–20 minutes, until the potatoes are fully cooked.
Scoop approximately 2/3 of the soup into a bowl and purée using a submersion blender (a food processor or blender work too, so long as you're cautious while blending — hot liquid expands, and can be a little unpredictable when mixed). This can be done all at once, or in shifts, whatever you feel most comfortable with. Add the puréed mixture back into the pot, and pour in the milk, cream and 4 ounces of the shredded cheddar. Increase the heat to medium-high and stir continuously until all the cheese is melted.
Dish the soup into bowls and garnish with a dollop of sour cream, remaining shredded cheddar cheese and a sprinkle of the reserved bacon.
Recipe and image courtesy of Half & Half, a food magazine celebrating dairy and those who make it. Learn more and subscribe at HalfandHalfmag.com.
You might also enjoy...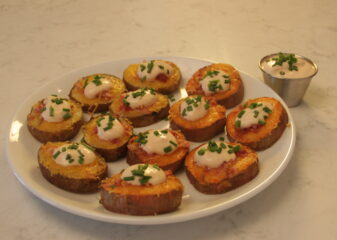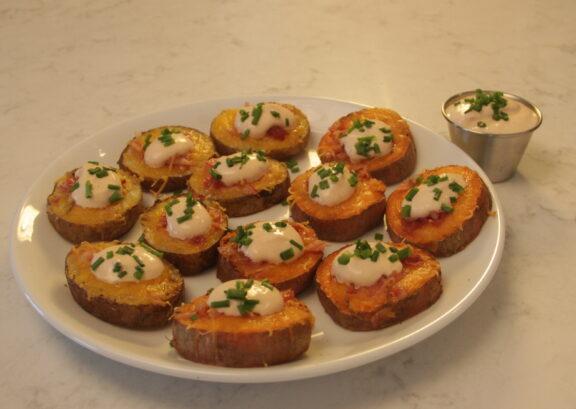 Loaded Baked Potato Sliders with Chipotle Cream