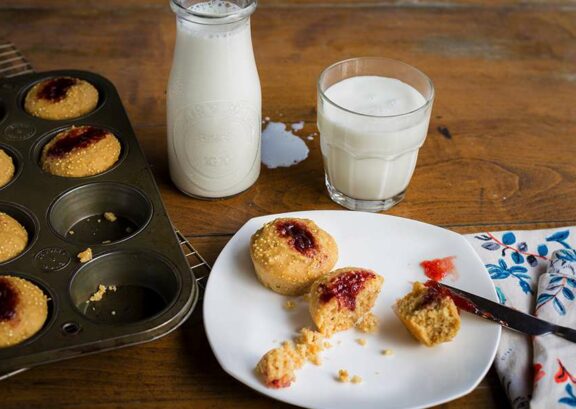 PREP: 30 min
COOK: 40 min
SERVES: 6
PB & J Protein Power Muffins
SHARE THIS:
When you are in a rush on weekday mornings, but still want to a high-protein breakfast while on the go, try these protein muffins with peanut butter and jelly. This easy protein breakfast recipe is a way to serve a childhood favorite in a hurry in the morning.
Ingredients
Nonstick cooking spray
1 cup – uncooked quinoa, rinse according to package directions
1 3/4 cup – Oakhurst milk, divided
2 cups – all-purpose flour
1/2 cup – loosely packed brown sugar
1 1/2 teaspoons – baking powder
1/2 teaspoon – salt
1/4 cup – plain nonfat Greek yogurt
2 – large eggs
1 teaspoon – vanilla extract
4 tablespoons – creamy reduced-fat peanut butter
1/4 cup – strawberry preserves
Preparation
Preheat oven to 350 degrees and grease a standard 12-muffin tin with a nonstick cooking spray. In a medium sauce pan stir together quinoa and 1 cup milk. Bring to a boil over medium heat. Reduce to a simmer, cover, and cook 10-15 minutes until quinoa is tender and milk is absorbed.
In a large bowl combine flour, brown sugar, baking powder, and salt and whisk to combine. In a medium bowl combine remaining milk, Greek yogurt, eggs, vanilla, and peanut butter and mix well. Add wet ingredients to dry ingredients and mix until combined. Stir in cooked quinoa. Divide batter among muffin cups. Drop a heaping 1/2 teaspoon of strawberry preserves into the center of each muffin tin on top of the batter. Bake for 20-25 minutes until an inserted toothpick comes out clean.
Allow to cool for 5-10 minutes then serve with remaining 8-ounce glass of milk.
Recipe and photo by Tiffany Edwards of Creme de la Crumb on the Milklife.com site.
You might also enjoy...
Creamy Chicken Noodle Soup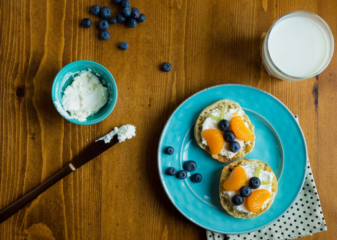 Monarch Muffin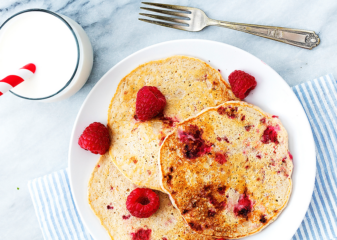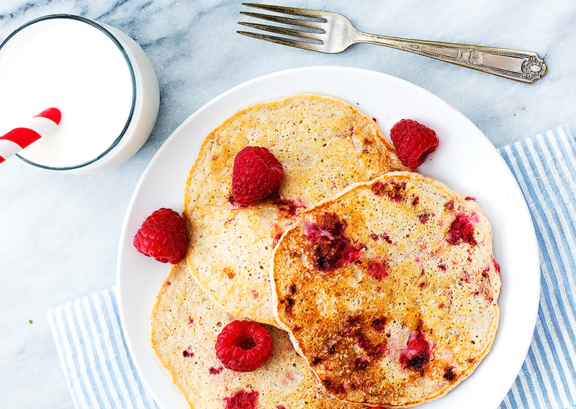 Raspberry Cottage Cheese Protein Pancakes
You might also enjoy...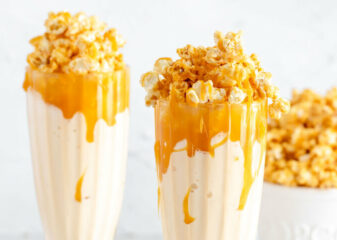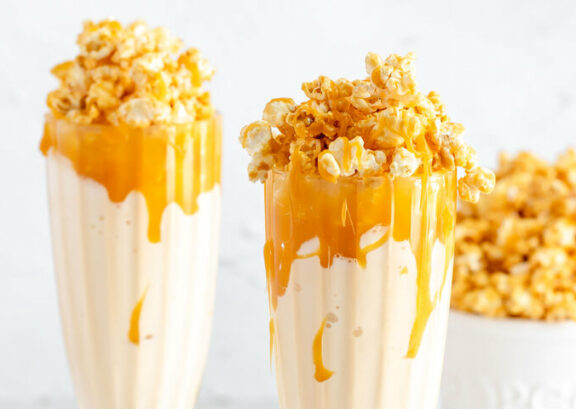 Salted Caramel Popcorn Milkshake