New Delicious Flavored Whole Milk Represents Everything Maine Has to Offer in a Bottle; Fresh Milk from Maine Dairy Farms and Local Iconic Wild Blueberries
PORTLAND, MAINE —May 22, 2018 — Oakhurst, Northern New England's leading dairy company and beloved milk brand, announced today that its highly anticipated Wild Blueberry Milk will start hitting store shelves on Friday, May 25, 2018, just in time for the summer season. Milk and blueberry lovers will find the quarts and pints of the new Wild Blueberry Milk in the dairy and refrigerated sections of grocery and convenience stores for a limited time only – from May to October. To learn more, visit www.oakhurstdairy.com/wildblueberrymilk.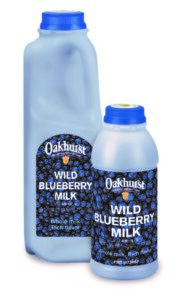 "We've been amazed at the energy and excitement around our Wild Blueberry Milk and are eager to get it into the hands of milk and blueberry lovers all over Northern New England," said John Bennett, President of Oakhurst Dairy.
The idea for Wild Blueberry Milk started about a year ago with a simple Facebook post on April Fool's day that playfully suggested Oakhurst might launch a jelly bean milk. "Our Facebook fans went crazy about the idea of a new flavored whole milk," said Bennett. "We had been thinking about expanding our line of flavored premium milks for months, and this excitement, combined with renewed consumer interest in whole milk, crystalized our decision," he noted.
Consumers are rediscovering the health benefits of whole milk resulting in higher national sales. According to Dairy Business, whole milk sales are up 2.4 percent this year and flavored whole milk sales are up 9.2 percent.
When Oakhurst decided to create a new flavored whole milk, rather than keep the details quiet as most companies do with a new product, the company engaged its fans in every step in the process, even asking them to weigh in on the flavor choice. The resounding response was wild blueberry. Oakhurst also asked its fans to help select the package design, which resulted in a
slightly different look from its traditional flavored whole milk packaging. "We knew we had something special when our package design Facebook post went viral, and lead to news coverage in Food and Wine, and Bon Appétite and a call from ABC's The Chew asking for an advance taste even before we had a final formulation," said Bennett.
Oakhurst's Super Premium Chocolate Milk already has a tremendous following. It is the company's number one selling flavored milk, and it leads flavored whole milk sales in both Maine and New Hampshire. The Wild Blueberry Milk, like its Super Premium Chocolate Milk cousin, combines whole milk with premium flavors.
Oakhurst is sourcing its wild blueberries from Wyman's of Maine® to create the distinctive wild blueberry flavor in the new offering. "Living in Maine, we know that our state's iconic berry tastes so much better than ordinary blueberries," said Bennett. "From a flavor profile perspective, it was important to have the more intense blueberry flavor that wild blueberries offer." He added, "Wild blueberries also conjure up great summer memories for people in Maine and New Hampshire, meaning we all have a little wild in us. I hope adults and kids alike will have fun with our Wild Blueberry Milk and enjoy it as a refreshing treat or snack. Try it on cereal, as a base ingredient for a smoothie or summer milk shake, or simply drink it straight out of the bottle."
Nancy McBrady, Executive Director of the Wild Blueberry Commission of Maine, was thrilled with the idea when she heard about it. "It just makes sense. Wild blueberries are part of the fabric of life here in Maine and Northern New England. Most of us remember picking and eating wild blueberries on a mountain top or along a hike as children. The idea of combining Oakhurst milk — the natural goodness of Maine — with our iconic wild blueberry is a great idea. It's everything you love about Maine in a bottle," she said.
Look for Oakhurst's Wild Blueberry Milk throughout Northern New England in Hannaford, Market Basket, and Walmart, and at independent grocery stores or at convenience stores including Big Apple and Circle K. Prices may vary depending on location and retailer.
About Oakhurst
Oakhurst is Northern New England's leading dairy brand and has stood behind every glass of milk and product for 97 years. While the FDA states there is no significant difference between milk from cows treated with artificial growth hormone, Oakhurst made history in 2003 when it asked its milk producers to take America's First Farmer's pledge not to use artificial growth hormone. Today, Oakhurst remains committed to the wellbeing of its community by contributing 10 percent of profits to local organizations that support healthy active kids and a healthy environment. The company produces milk and other dairy and juice products from its headquarters on Forest Avenue in Portland, Maine. In January 2014, Oakhurst became a wholly-owned subsidiary of Dairy Farmers of America, a dairy farmer-owned cooperative based in Kansas City, Kansas. For more information, visit www.oakhurstdairy.com.
-###-