Fun, New Chocolate Milk Packaging Designed to Encourage Northern New Englanders to Embrace Mud Season; Get Outside and Play and Fuel Their Adventures with Chocolate Milk
PORTLAND, MAINE —March 20, 2019 — Oakhurst, Northern New England's leading dairy company and beloved milk brand, announced today that it is releasing new, limited time special packaging of its 1% chocolate milk, renamed "Mud Season Milk" in honor of Northern New England's storied fifth season. From now until the end of May, fans of Oakhurst's delicious 1% chocolate milk can find it under its new name, Oakhurst Mud Season Milk, in the dairy cases of grocery stores and the refrigerated sections of convenience stores throughout Northern New England. The fun new milk packaging will be available in Oakhurst pints, half gallons and gallons.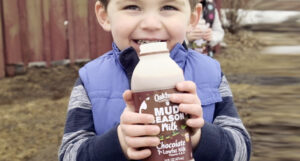 Mud season in Northern New England isn't typically the most celebrated time of year. It normally occurs from mid-March to May as the snow melts, the ground thaws, and spring showers fall, turning roads, driveways, fields, back yards and trails into a muddy mess as the ground tries to absorb the excess water.
"Even though some New Englanders view mud season as a nuisance, we wanted to honor this unique time of year in New England," said John Bennett, President of Oakhurst Dairy. "Winter is finally coming to an end and our Mud Season Milk is a fun and delicious way to embrace the season and get active outside – even if it means getting a little muddy."
With a smile, he notes, "this is why we invest in good boots and even build entire rooms dedicated to them around here. Whether you're jumping in mud puddles, ice fishing, shoveling slush out of the driveway, biking, running, or hitting the trails, we hope you'll fuel your adventures with Oakhurst Mud Season Milk. It's the perfect sports or exercise recovery drink," he adds.
Studies have shown that low-fat chocolate milk is an optimal refueling beverage after exercise and is better than drinking a sports drink, carb-only beverage or water because it rebuilds muscle after a tough workout and replenishes electrolytes and rehydrates.
Chocolate milk is the perfect refueling beverage because it has:
Natural high-quality proteins to rebuild lean muscle.
The right carb-to-protein ratio scientifically shown to rebuild exhausted muscles.
Vitamin A to support a healthy immune system and normal vision.
Electrolytes, including calcium, potassium, sodium and magnesium, to help replenish what is lost in sweat.
B vitamins for converting food into energy.
Fluids to rehydrate.
Calcium, vitamin D, phosphorus, protein and potassium to build and maintain strong bones and help reduce the risk for stress fractures.
As demand for healthy beverages continues to increase, the global flavored milk market is expected to grow at the rate of about 4.3% from 2017 to 2023. Last summer, Oakhurst introduced a new flavored milk to its line-up, Wild Blueberry Milk, which will return again this summer as a limited seasonal offering. Oakhurst Chocolate Milk has a tremendous following. It is the company's number one selling flavored milk, and it leads flavored whole milk sales in both Maine and New Hampshire.
Look for Oakhurst's Mud Season Milk in pints, half gallons and gallons throughout Northern New England in Hannaford, Market Basket, and Walmart, and at independent grocery stores or at convenience stores including Big Apple and Circle K. Prices may vary depending on location and retailer.
About Oakhurst
Oakhurst is Northern New England's leading dairy brand and has stood behind every glass of milk and product for 97 years. While the FDA states there is no significant difference between milk from cows treated with artificial growth hormone, Oakhurst made history in 2003 when it asked its milk producers to take America's First Farmer's pledge not to use artificial growth hormone. Today, Oakhurst remains committed to the wellbeing of its community by contributing 10 percent of profits to local organizations that support healthy active kids and a healthy environment. The company produces milk and other dairy and juice products from its headquarters on Forest Avenue in Portland, Maine. In January 2014, Oakhurst became a wholly-owned subsidiary of Dairy Farmers of America, a dairy farmer-owned cooperative based in Kansas City, Kansas. For more information, visit www.oakhurstdairy.com.
-###-