PORTLAND, MAINE — February 3, 2017 —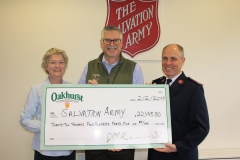 Oakhurst, Northern New England's leading dairy brand, announced today that it is donating $22,445 to The Salvation Army. The donation represents the largest amount the company has raised in the history of its 17-year annual Egg Nog fundraiser. Since the program began in 1999, Oakhurst has sold more than 6 million Egg Nog containers with five cents of every container committed to The Salvation Army of Northern New England. To date, the Oakhurst Egg Nog fundraiser has raised more than $300,000 for The Salvation Army.
"Every year, we look forward to Egg Nog season and to the incredible generosity of Oakhurst and their loyal customers who purchase Egg Nog during the holidays," said Major Everett Henry, Divisional Secretary, The Salvation Army. "Oakhurst's unwavering commitment to our organization over the last 17 years has been simply remarkable ¾ it's a valued relationship that we are grateful for because it truly helps us make a difference in the communities that need our help and support."
Oakhurst has always requested that the funds it raises through the annual holiday fundraiser be directed to the communities where its loyal Egg Nog lovers purchase and enjoy their product in support of the program. The funds raised through this annual holiday tradition allow The Salvation Army to provide much needed practical assistance and programming, such as meals, after-school tutoring, recreational activities, and shelter for children and adults throughout Northern New England. The Salvation Army of Northern New England divides the funds between its 22 Corps Community Centers across Maine, New Hampshire, and Vermont, with The Salvation Army Massachusetts Division receiving a portion, too.
"I want to thank everyone who purchases Oakhurst Egg Nog during the holiday season," said John Bennett, Oakhurst President. "It's rewarding to know that while families are enjoying time together during the holidays with a glass of Oakhurst Egg Nog that we are able to help people in need throughout Northern New England."
Each holiday season, Oakhurst makes a variety of Egg Nog flavors including its traditional Egg Nog, Light Egg Nog and its Buttered Rum Egg Nog. The company's Egg Nog is made entirely with milk from Maine dairy farms. Since 2003, dairy farmers who supply Oakhurst with their milk have committed to take America's First Farmer's pledge not to use artificial growth hormone.
About Oakhurst
Oakhurst is Northern New England's leading dairy brand and has stood behind every glass of milk and product for 96 years. While the FDA states there is no significant difference between milk from cows treated with artificial growth hormone, Oakhurst made history in 2003 when it asked its milk producers to take America's First Farmer's pledge not to use artificial growth hormone. Today, Oakhurst remains committed to the wellbeing of its community by contributing to local organizations that support healthy active kids and a healthy environment. The company produces milk and other dairy and juice products from its headquarters on Forest Avenue in Portland, Maine. In January 2014, Oakhurst became a wholly-owned subsidiary of Dairy Farmers of America, a dairy farmer-owned cooperative based in Kansas City, Kansas. For more information, visit www.oakhurstdairy.com.