PORTLAND, MAINE — February 27, 2014 — Oakhurst, northern New England's leading dairy brand,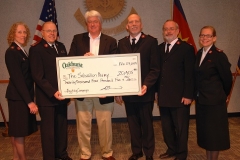 announced today it raised $20,405 for The Salvation Army of Northern New England through its 14th annual holiday Egg Nog campaign. The funds will help support programs provided by The Salvation Army and directly impact Maine, New Hampshire and Vermont families. Since 1999, Oakhurst has donated a portion of its Egg Nog sales — five cents for every container sold during the holiday season — to The Salvation Army.To date, the company has donated more than $240,000 through this annual holiday fundraising tradition.
"For more than 90 years Oakhurst has supported its communities by donating and providing volunteer support to many organizations, and today that tradition remains just as strong," said Bill Bennett of Oakhurst. "Giving back to the local community is an important part of who we are as a company. We will continue to donate 10% of our profits to organizations across our communities that support healthy kids and a healthy environment."
The funds raised for The Salvation Army of Northern New England will be divided between its 22 Corps Community Centers across Maine, New Hampshire, and Vermont. The support will be used to supply meals, after-school tutoring, recreational activities and shelter for those in need.
"The Salvation Army is doing its best to maximize donations to help and educate those in need through such programs as Camp Sebago, a residential camping program for children in Standish; The Center for Healthy Aging in Portland; Dorothy Day Soup Kitchen in Bangor; The Learning Zone for children in Bath and OOBIE Reading Lab in Old Orchard Beach, along with basic social services that include food, clothing, utilities and emergency disaster services," said Major James LaBossiere, Division Commander, The Salvation Army of Northern New England. "The funds raised through Oakhurst's Holiday Egg Nog promotion provide vital support to The Salvation Army's year round programming."
Bennett continued, "We are delighted to have met our $20,000 goal and we genuinely appreciate the extraordinary work that The Salvation Army does every day of the year to help people in Maine, New Hampshire and Vermont."
Oakhurst produces and distributes a variety of Egg Nog flavors each holiday season including its traditional and Light Egg Nog and its newest flavors Chocolate Nog and Buttered Rum Egg Nog. All of the company's Egg Nog products are made with milk sourced from local Maine dairy farms that have agreed to the Oakhurst pledge not to use artificial growth hormone. This past holiday season, Oakhurst sold over 400,000 containers of its different flavors of Egg Nog.
About Oakhurst Dairy
New England's leading dairy brand, Oakhurst Dairy has stood behind every glass of milk and product for more than 90 years. While the FDA states there is no significant difference between milk from cows treated with artificial growth hormone, Oakhurst asked all its milk producers in 2003 to take America's First Farmer's pledge not to use artificial growth hormone. Today, Oakhurst remains committed to the health and well being of the community in which it operates by contributing to local organizations that support healthy kids and a healthy environment. In January 2014, Oakhurst became a wholly owned subsidiary of Dairy Farmers of America, a dairy cooperative based in Kansas. For more information, visit www.oakhurstdairy.com.